Glenn Greenwald Leaving Guardian for 'Once-in-a-Career Dream Journalistic Opportunity'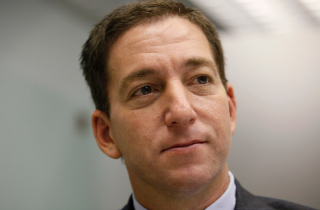 In an exclusive with BuzzFeed on Tuesday afternoon, journalist Glenn Greenwald revealed that he will soon depart the London-based Guardian for a "once-in-a-career dream journalistic opportunity" with a "well-funded" new media outlet.
Greenwald rose to international prominence recently when he published information from former National Security Agency contractor Edward Snowden that revealed the extent to which American officials were engaged in the snooping on its own civilians and the obtaining of private information.
"My partnership with the Guardian has been extremely fruitful and fulfilling: I have high regard for the editors and journalists with whom I worked and am incredibly proud of what we achieved," Greenwald told BuzzFeed by email. "The decision to leave was not an easy one, but I was presented with a once-in-a-career dream journalistic opportunity that no journalist could possibly decline."
More details from BuzzFeed:
Greenwald said that because the news had leaked "before we were prepared to announce it, I'm not yet able to provide any details of this momentous new venture." It will, he said, "be unveiled very shortly."

A Guardian spokeswoman, Jennifer Lindenauer, also stressed that the writer and his news organization are parting on good terms — though she said the Guardian is "disappointed" to lose him.

"Glenn Greenwald is a remarkable journalist and it has been fantastic working with him," Lindenauer said in an email. "Our work together over the last year has demonstrated the crucial role that responsible investigative journalism can play in holding those in power to account. We are of course disappointed by Glenn's decision to move on, but can appreciate the attraction of the new role he has been offered. We wish him all the best."
As for his role with the new venture, Greenwald explained: "My role, aside from reporting and writing for it, is to create the entire journalism unit from the ground up by recruiting the journalists and editors who share the same journalistic ethos and shaping the whole thing — but especially the political journalism part — in the image of the journalism I respect most."
The news outlet will have its main offices in New York City, Washington, D.C., and San Francisco. He will remain based out of Rio de Janiero, Brazil, however. According to his statements, it will be "a general media outlet and news site — it's going to have sports and entertainment and features. I'm working on the whole thing but the political journalism unit is my focus."
"When people hear what it is, there is almost no journalist who would say no to it," he added.
Read the full report here.
— —
>> Follow Andrew Kirell (@AndrewKirell) on Twitter
Have a tip we should know? tips@mediaite.com