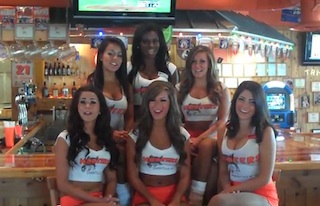 In the past few weeks, as the tenth anniversary of 9/11 drew nearer and then arrived, we've shared a number of different tributes to all that we lost on that day, tributes that were clever, heartfelt, and heartbreaking. But, now that we're in a post 9/11 (2011) world, we can focus on some of the other, lesser tribute. Tributes like this one in which a group of Hooters Girls honor the fallen.
Now, I know some people will make fun of this video and, preparing for this post, I almost did this as well. However, the more I thought about, the more it reminded me of just how great this country is.
"God bless America," say the women early on and they're right. God bless a nation that allows us to go to restaurants filled with barely dressed 19-year-olds and pretend we're there for the wings even though we all know we could get much better wings at the family-owned pizzeria down the street. America's enemies can't do that and that's part of the reason they hate us. If more people on this planet got to relax after a long day by watching Hooters Girls do hula hoop floor shows, there'd be less wars.
So thank you, Hooters Girls. May you continue to bring enjoyment to many. May you continue to pretend to laugh at your customer's jokes. And may your flesh-colored stockings keep your legs warm as the days grow cold and your orange shorts soar forever higher. Bless you, for you make me proud to call this country home.
However, that still doesn't mean I'm going to you for my buffalo wings. I'm an American. Some things are sacred.
Watch the video below:
Have a tip we should know? tips@mediaite.com