Ed Henry To Adweek: 'I Start Asking Tough Questions At Fox And Everybody Freaked Out'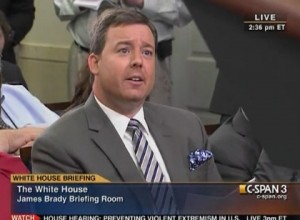 Ed Henry, who made a fast friend in White House Press Secretary Jay Carney upon leaving CNN to become Fox News' White House correspondent, gave Adweek a very revealing interview about the course his career has taken.
Henry even tackles the media buzz surrounding his switch to Fox News, sharing that he feels his questions are just as tough as when he was at CNN — it's simply the reaction to his questions that has changed:
I asked tough questions of the Bush White House when I was at CNN. I asked tough questions of the Obama White House when I was at CNN and nobody freaked out. I start asking tough questions at Fox and everybody freaked out. If I was a shrinking violet at CNN and was meekly sitting in the corner and occasionally raising my hand and then went to Fox and on Day 2 started asking really tough questions, I think the case would be stronger that I had some sort of bias. I was asking tough questions at CNN, I'll be asking tough questions at Fox.
In answering a follow-up question about possible meddling on the part of the network, Henry makes an interesting differentiation between Fox News' reporters — like Bret Baier, a colleague whom Henry seems to admire greatly — and the channel's opinion news folks:
My first day at Fox, President Obama gave a prime-time address to the nation. That would have been a great chance for Roger Ailes or someone to say, "Hey, Ed, there is going to be a lot of people watching tonight, maybe you should hit Obama on this or that." I didn't get a phone call from anyone. I didn't get an email from anyone. But what I did get was, we want you to be front and center tonight. I was on with Bret Baier, not Sean Hannity or some of the opinion anchors we have. Next morning ratings came out, and Fox had about 4 million viewers. CNN had about 2 million.
Then there's the matter of Henry's own personal reporting style which, he says, stems from his time as an "old print reporter" working under "Jack Anderson, the muckraking newspaper columnist:"
You had to write lively copy and cut to the heart of the story. I've heard from Roger [Ailes] and other people at Fox that one of the reasons they wanted to hire me was I have a sincerity that you can't make up. I'm passionate and that has to come out. I love politics. I love breaking news, I love bringing context to big stories, and you can't fake that. And I like to have a little bit of fun on air, and that is something Fox does better than anyone else.
Plus, the man can rock a Hawaiian shirt like none other.
Take a look at the full interview to get to know Ed, in his words.
h/t Adweek
Have a tip we should know? tips@mediaite.com