GOP Frustrated Over Rape Comments: 'Stop' Talking About Rape As Anything But A 'Brutal And Horrible Crime'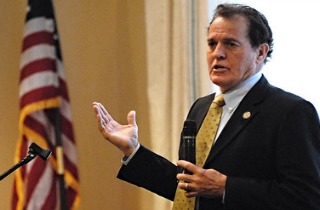 The recent comments by Representative Phil Gingrey (R-GA), in which he attempted to explain Rep. Todd Akin's (R-MO) "legitimate rape" statement, are causing many Republicans to feel frustrated that certain GOP politicians just can't seem to leave the subject alone. Gingrey said Thursday that Akin was at least "partially right" that a woman can stop herself from getting pregnant during a rape. His comments are re-opening a wave of anger at the GOP, including from some of their own, for the thoughtless statements on the subject.
"This is actually pretty simple," said Republican strategist Kevin Madden. "If you're about to talk about rape as anything other than a brutal and horrible crime, stop."
Although Gingrey later said that he wasn't trying to defend Akin's remarks and that his position was "misconstrued," many in his own party question why he felt the need to comment on the issue in the first place.
RELATED: Newt Gingrich Says "Virtually Every Catholic" Agrees With Mourdock On Rape: "Get Over It"

Former Rep. Mary Bono Back (R-CA) noted that there was "no way to defend what Todd Akin said." She continued, "You just can't do it and you shouldn't try to put it into a scientific context. It was a bad statement. And to try to defend it or explain someone else's poor choice of words, it would be a fool's errand."
Bono Mack added that she believes Republicans in Congress simply don't understand the nuances of the issue:
"It was my belief when I was in the Congress, and I tried to explain this to my colleagues: The abortion issue isn't just about abortion. It's about so much more. It's about delving into what it means to women and what it means to Americans."
Susan B. Anthony List President Marjorie Dannenfelser described a new "training" program for politicians to "make sure that in future elections, a candidate can never with a straight face say, 'I never thought about that or I got caught flat-footed.'"
According to Dannenfelser, these political remarks are a "tactic" by pro-choice advocates to "talk about this rather than the 98 percent of abortions because they know that they lose it."
Marina Ein, a crisis communications specialist, said Republicans need "sensitivity training" to succeed in the next elections.
"It all boils down to whether or not the Republican Party thinks this is a problem," she said. "If they want to make inroads with women, then they need to subject every one of their candidates to sensitivity training — not to mention reality training."
h/t POLITICO
—
>> Follow Anjali Sareen (@AnjaliSareen) On Twitter
Have a tip we should know? tips@mediaite.com