GOP Senator Calls On DOJ To Investigate 'SWAT-ting' Attacks Targeting Conservative Bloggers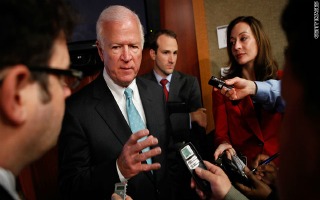 Georgia Republican Sen. Saxby Chambliss has written to the Obama administration's Department of Justice and asked them to investigate a rash of "SWAT-ting" attacks that have recently targeted conservative bloggers. "The perpetrators appear to be targeting individuals who are vigorously exercising their First Amendment rights to political speech," Chambliss writes in a public letter to Attorney General Eric Holder. "As you know, these reported efforts to intimidate those who choose to enter the political forum and express their opinions are in conflict with the founding principles of our nation."

RELATED: Megyn Kelly Airs Audio From 'Swatting' 911 Phone Call Targeting Conservative Bloggers
In a press release on Sen. Chambliss' website, he asks Holder to look into reports of conspicuous and coordinated harassment of conservative bloggers — particularly the tactic that has become known as 'SWAT-ting"
"SWAT-ting" involves the spoofing of a blogger's home phone number and calling the police with reports of violence inside the home. If the police response goes wrong, the target or their family members could be seriously harmed.
Recently, Chambliss notes, the target of these attacks have been conservative bloggers and online commentators.
"The perpetrators appear to be targeting individuals who are vigorously exercising their First Amendment rights to political speech," Chambliss writes. "As you know, these reported efforts to intimidate those who choose to enter the political forum and express their opinions are in conflict with the founding principles of our nation."
Any potentially criminal action that incites fear, seeks to silence a dissenting opinion, and collaterally wastes the resources of law enforcement should be given close scrutiny at all levels… Regardless of any potential political differences that may exist, threats and intimidation have no place in our national political discourse. Those who choose to enter into that political discourse should not have to worry about potential threats to their or their family's safety.
Conservative bloggers Assistant L.A. District Attorney John "Patterico" Frey, RedState.com founder Erick Erickson. They attributed their "SWAT-ting" episodes to their critical focus on liberal commentator Brett Kimberlin.
Fox News Channel's Megyn Kelly aired portion of the 911 call that targeted Frey last week. The "SWAT-ting" perpetrator told the 911 operator that he had shot his wife in his home and asked for a police response.
Follow Noah Rothman on Twitter
Have a tip we should know? tips@mediaite.com