GOP Senators Huddle to Decide They Still Won't Have Hearings on Obama SCOTUS Pick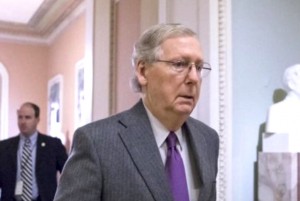 The fight to replace deceased Supreme Court Justice Antonin Scalia took another turn on Tuesday, the first full day that the Senate has been in session since Scalia died. Republicans vowed from the outset not to consider any nominee put forward by President Obama, while Obama has made it clear he will nominate someone, and expects a fair hearing.
After some signs there may be cracks in the GOP'resolve, several key members of the judiciary committee met Tuesday, and told reporters afterward that their Soup Nazi policy remains. No nominee for you! From TPM:
"We believe the American people need to decide who is going to make this appointment rather than a lame duck president," said Majority Whip John Cornyn.

When asked if they would start the process after the new president took office or if they would consider doing it in the lame duck session, Cornyn replied "No, after the next president is selected. That way the American people have a voice in the process."

Sen. Lindsey Graham said that "there's no use starting a process that's not going to go anywhere and we are going to let the next president decide," when asked why there would be no hearings.

When TPM asked if he had political concerns about the decision not to move forward with a nominee, Graham responded."I have zero concerns politically."
Senate Majority Leader Mitch McConnell (R-KY) threw down a marker within hours of Scalia's death, releasing a statement vowing that the next president would be the one to select Scalia's replacement. As such, this sort of posture will likely remain in place at least until the President makes his move.
This is an opinion piece. The views expressed in this article are those of just the author.