GOP'ers React To Obama Meeting: 'Intense Level Of Distrust,' Will Take More Than One Meet 'To Repair'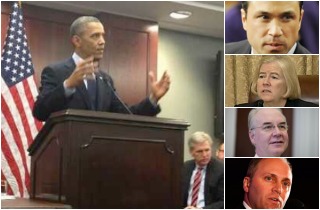 "Such an intense level of distrust" has developed between House Republicans and President Barack Obama "it will take more than just this meeting to repair it." This was the impression that Rep. Lee Terry (R-NE), along with his Republican colleagues, was left with after a meeting with the president intended to discern where Republicans and the president can agree in order to strike a "grand bargain" on spending, entitlement reform and tax rates.

RELATED: Michelle Malkin: Obama Not Serious About Negotiations With GOP Unless 'Smarm Offensive' Broadcast On Fox
According to a report in Real Clear Politics by reporter Caitlin Huey-Burns, the bad blood that has built up between House Republicans and President Obama over the course of years of mutual berating cannot be undone in just one meeting.
The wide-ranging discussion between House Republicans and the president lost focus, according to the report, and veered into a number of areas where political tension between the White House and the Congressional GOP persists:
There was also some tension and pushback, some lawmakers said. Michigan Rep. Candice Miller asked the president why the White House canceled public tours, rather than cut other events there, because of the sequester. Obama said the decision wasn't up to him. Indiana Rep. Jackie Walorski asked why the government couldn't balance its budget the way everyday families do. The president replied that the scenarios aren't comparable. Louisiana Rep. Steve Scalise, chairman of the conservative Study Committee, asked why the president has not approved the full implementation of the Keystone pipeline, a controversial project that would route crude oil from Canada to the Gulf of Mexico. Obama, facing opposition from the environmental left, has approved the southern leg of the pipeline, but lawmakers said he did not give a definitive answer about the rest of it.
"We feel the president has been very political, he's been calculated," Rep. Michael Grimm (R-NY) told Huey-Barns. "The sequester really reinforced [that] there's a lot of politics being played. And that's a hurdle he recognizes he has to overcome."
While Grimm was sanguine about the prospect that real reforms to entitlement programs will be on the table in negotiations with Congressional Democrats and the White House, other Republican House members were less optimistic:
"He said he is willing to look at them, without any specifics, if we're willing to give him what he wants," Rep. John Carter (R-TX) said. "He told us basically what he's told us [while] campaigning for the last six years."
"I think if this is a first step in a process, then it's helpful. But if this is the president just checking a box, then it will have no effect whatsoever," added Rep. Tom Price (R-GA)
Read the full report via Real Clear Politics
> >Follow Noah Rothman (@NoahCRothman) on Twitter
Have a tip we should know? tips@mediaite.com