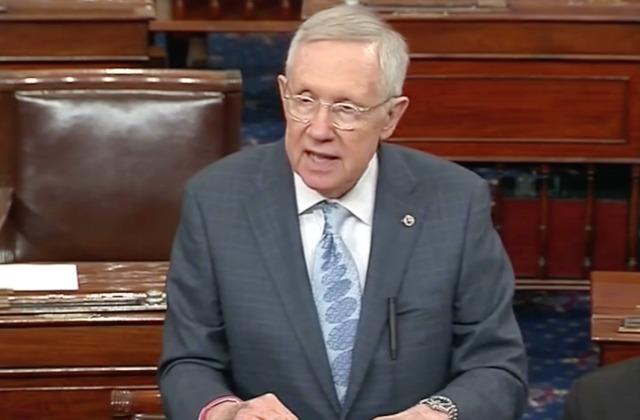 The Department of Justice is arguing that Harry Reid attempted to influence the Obama administration in order to help a Florida eye doctor who's currently involved in the corruption trial of Sen. Robert Menendez (D-NJ), which is set to start next week.
Menendez is being accused of accepting thousands of dollars in bribes in the form of campaign contributions and lavish vacations from ophthalmologist Dr. Salomon Melgen, who himself was indicted for Medicare fraud, in exchange for policy-related favors.
In a report from Bloomberg, Reid's involvement goes back to 2011 when Menendez sought his help to urge the Center for Medicare and Medicaid Services to drop its ruling that Melgen over-billed Medicaid for $8.9 million.
The DOJ alleges that the then-Senate Majority Leader reached out to a White House deputy chief of staff in hopes that they would intervene in the case, but that staffer declined to help.
Per Bloomberg:
"At that time, the Majority Leader reached out to the White House Deputy Chief of Staff, informing her that Menendez was upset about how a Florida ophthalmologist was being treated by CMS and asking that she call the agency," according to the 30-page filing.

But the staffer, who wasn't identified, "demurred" after "recognizing the matter involved a dispute between a single doctor and an administrative agency," according to prosecutors. The filing doesn't offer further details about what Menendez allegedly asked Reid to do. Reid isn't accused of wrongdoing in the case.
In a letter, Menendez and Melgen's lawyers accused the DOJ prosecutors of filing a "lengthy, lurid and one-sided narrative of the case'' that included "new, irrelevant and inflammatory 'facts.'"
Have a tip we should know? [email protected]