HBO's The Wire Creator Slams GOP After Obama Win: 'Change Is A Motherf**ker When You Run From It'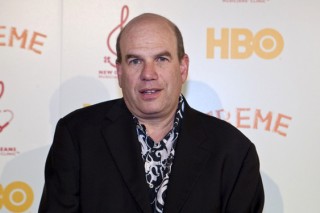 One of the primary post-election media narratives has been that the Republican Party took a beating largely because of shifting demographics in the American electorate. Heck, hours before the presidential race was called, Fox News' Bill O'Reilly was already saying that "the white establishment is now the minority" and President Obama will win re-election because of minorities who "want things."
Outspoken liberal David Simon, creator of acclaimed HBO shows like The Wire and Treme, took notice and relished in an opportunity to gloat about how these changing demographics may bring an end to the Republican Party's longstanding tactics as we know it.
"I abhor a gloat," he wrote in a blog post titled "Barack Obama and the Death of Normal."
"But the country is changing," he continued. "And this may be the last election in which anyone but a fool tries to play — on a national level, at least — the cards of racial exclusion, of immigrant fear, of the patronization of women and hegemony over their bodies, of self-righteous discrimination against homosexuals."
He took shots at the GOP and the Tea Party for what he believes will be a continued strategy of "racial exclusion":
Some in the Republican party and among the teabagged fringe will continue to play such losing hands for some time to come; this shit worked well in its day and distracted many from addressing any of our essential national issues. But again, if they play that weak-ass game past this point, they are fools.
Ronald Reagan won elections with an electoral base composed of 89 percent white voters, Simon noted, but now "that number is down to 72 percent and falling," which means:
This election marks a moment in which the racial and social hierarchy of America is upended forever. No longer will it mean more politically to be a white male than to be anything else. Evolve, or don't. Swallow your resentments, or don't. But the votes are going to be counted, more of them with each election. Arizona will soon be in play. And in a few cycles, even Texas. And those wishing to hold national office in these United States will find it increasingly useless to argue for normal, to attempt to play one minority against each other, to turn pluralities against the feared "other" of gays, or blacks, or immigrants, or, incredibly in this election cycle, our very wives and lovers and daughters, fellow citizens who demand to control their own bodies.
He went on to call upon conservatives to "evolve" and "swallow your resentment," adding:
Change is a motherfucker when you run from it. And right now, the conservative movement in America is fleeing from dramatic change that is certain and immutable. A man of color is president for the second time, and this happened despite a struggling economic climate and a national spirit of general discontent. He has been returned to office over the specific objections of the mass of white men. He has instead been re-elected by women, by people of color, by homosexuals, by people of varying religions or no religion whatsoever. Behold the New Jerusalem.
Simon emphasized that he was not saying being a white male is a bad thing: "There's anything wrong with being a white man, of course," he wrote. "There's nothing wrong with being anything. That's the point."
Full article here.
[h/t AV Club]
— —
>> Follow Andrew Kirell (@AndrewKirell) on Twitter
Have a tip we should know? tips@mediaite.com