'He Is Just Guessing, or Flat Wrong': CNN's Cuomo Battles Darrell Issa on Trump Voter Fraud Claims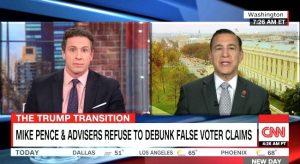 CNN's Chris Cuomo got into a heated exchange Monday with Congressman Darrell Issa (R-CA) as they went over Donald Trump's claim that "millions" of illegal voters cost him the popular vote.
Trump has railed against the system by alleging that Hillary Clinton's popular vote lead is a result of massive voter fraud. On New Day, Cuomo pointed out that numerous studies show that Trump's claims are greatly blown out of proportion.  Issa defended the mogul and called for reforms to block illegal votes.
"We do have huge problems in getting elections accurate and quickly, and getting them believed by the American people," Issa said. "I'm going to hold you to your facts…we all know out of 320 million Americans, it wasn't dozens or handfuls."
Rep. @DarrellIssa debates @ChrisCuomo about the amount of people who voted illegally: "I love you, but…" https://t.co/IABeN7DtGy

— New Day (@NewDay) December 5, 2016
"Why would you say millions of people voted illegally? That doesn't bring back confidence," Cuomo asked. "We need to modernize the system and make it accurate and believed by the American people," Issa responded.
Later during the show, Cuomo mentioned his discussion with Issa during a segment with CNN Politics editor Mark Preston about how false news is becoming a problem in America.
"He is just guessing or flat wrong," Cuomo said "I'm going to send him a bunch of studies. I get why he's playing cover for the President of the United States, that's his job, but, how do you deal with something like that?"
After the show, Cuomo did a bit of overtime by putting up a YouTube video, where he explained how mass voter fraud rumors get started despite the lack of documented evidence.
[Image via screengrab]
— —
>> Follow Ken Meyer (@KenMeyer91) on Twitter
Have a tip we should know? tips@mediaite.com