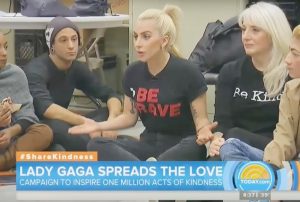 This morning on the Today Show, Lady Gaga revealed a secret she's never told anyone before. The chart-topping performer suffers from PTSD as a result of the rape she has previously reported being the victim of. Beyond her advocacy for other sexual assault survivors, she has also been an outspoken ally for the LGBT community, too, which was made clear when NBC's cameras followed her to New York City's Ali Forney Center.
The Ali Forney Center, as you might remember, is a community center designed to aid homeless LGBT youth, many of whom have suffered traumas and/or been rejected by their parents.
Today I shared one my deepest secrets w/ the world. Secrets keep you sick w/ shame ❤️Watch this video #ShareKindness https://t.co/Rynfxekz3Z

— xoxo, Joanne (@ladygaga) December 5, 2016
Her big revelation and trip to the center aligned with the opening of the #ShareKindness experience at 30 Rockefeller Center in New York City.
Gaga's Born This Way Foundation, which aims to empower youth, inspire bravery, and foster kindness, partnered with NBC for the initiative. At the pop-up shop at 30 Rock, visitors can engage with the #ShareKindness campaign via a curated journey of kind acts. The space will be open through December and features stations where guests can do kind things like write a note to a military serviceperson or pack a lunch for a needy child.
The goal is to reach 1,000,000 acts of kindness, all of which will be counted by a special Lego-branded "kindness counter." Each time the #ShareKindness hashtag is used on Twitter or Instagram, a little heart-shaped block will be placed in the counter. Ultimately, they'll fill it up and prove that no act of kindness is too small.
[image: screengrab]
Have a tip we should know? tips@mediaite.com