'Her Skin Sucks, Okay?' Apprentice Transcript Allegedly Shows Trump Humiliating Female Music Star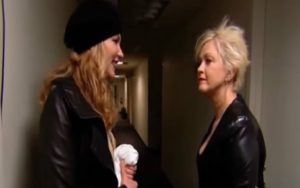 The Huffington Post has obtained a transcript from a 2010 episode of The Apprentice that reveals unaired moments in which current Republican presidential candidate Donald Trump berated and humiliated a female contestant over her appearance.
While HuffPost didn't have video footage to go with the transcript, they did authenticate the transcript that they received. The episode, titled 'Beauty and Brains' and included Cyndi Lauper and Luke Bryan, was part of the program's ninth season.
During the broadcast, contestants were split into teams to make over a country music star. One of the stars, singer Emily West, was managed by Lauper's team. When Trump and his board were presented with brochures featuring West, Trump kept harping about the way West looked. Specifically, her skin.
"I assume you're gonna leave this off, don't put this shit on the show, you know. But her skin, her skin sucks, okay?" he says, according to the transcript. "I mean her skin, she needs some serious fuckin' dermatology."

Cyndi Lauper, who headed the team that managed West, interjected to explain that they used "dry stuff" ― presumably, makeup ― and said Trump was objecting to something that was "not her skin." But he remained unimpressed.

"Fuck," he proclaimed. "That's Emily, that's what I'm hearing about? Let me see the other one. I assume you're not putting this on the show. 'Cause I don't wanna destroy the kid's career."
Trump would continue to focus on West's appearance in the unaired part of the show, stating that while he wasn't "a gay man" he liked how Bryan looked better.
Lauper confirmed to HuffPost that Trump had said all of those things during the filming of the episode.
Yesterday, it was reported that Apprentice producer Mark Burnett was threatening to sue any staffers who leaked any damaging info on Trump from his time on the program. And, of course, this all comes on the heels of the "grab 'em by the pussy" hot mic remarks.
[image via screengrab]
–
Follow Justin Baragona on Twitter: @justinbaragona
Have a tip we should know? tips@mediaite.com