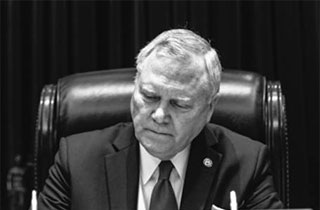 The Governor of Georgia has mysteriously disappeared into the night, missing a Martin Luther King Day speech, and no one is willing to say where he went.
According to the New York Times, the office of Governor Nathan Deal refused to tell reporters exactly where he had gone but insisted that, unlike the last time a governor went AWOL, there was nothing scandalous going on. "There's no Argentinian lover involved," a spokesman for the Republican Deal told the Times, referring to South Carolina's 2009 missing governor debacle.
Which must mean Deal is actually with his sexy Appalachian lover! Go, intrepid reporters! Go hike the Appalachian Trail and find him! But no, actually, it sounds less like "secret lover" and more like "hammering out an incredibly sensitive deal":
In seriousness, Mr. Robinson said that Mr. Deal was involved in negotiations with "business people" and that disclosing his location would put those talks at risk.

"The people that he talks with, in these scenarios, are not public officials, they are business people and they operate in a different realm than we do," Mr. Robinson said. "This office is not going to do anything that jeopardizes his success on this trip."
The Times characterized it as a "secret economic development mission," and the Atlanta Journal-Constitution speculated that he was in Great Britain.
Which must mean he's actually James Bond! Go, intrepid reporters! Go to the nearest British casino and find him with his Appalachian lover!
[Image via Facebook]
— —
>> Follow Tina Nguyen (@Tina_Nguyen) on Twitter
Have a tip we should know? tips@mediaite.com