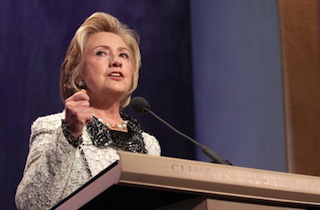 Former Secretary of State Hillary Clinton gave a "measured defense" of the deal to swap Army Sergeant Bowe Bergdahl for five Guantanamo Bay detainees.

At an event in Denver Clinton was asked her opinion of the deal, which has come under scrutiny for everything from Bergdahl's potential deserter status at the time of his capture to the legality of the Obama administration's decision not to inform Congress thirty days ahead of a prisoner swap.
RELATED: Cheney: These Gitmo Detainees Will Return to Battle and We Will Pay a Price
Noting that U.S. allies have made similar deals, Clinton said, "This young man, whatever the circumstances, was an American citizen — is an American citizen — was serving in our military. The idea that you really care for your own citizens and particularly those in uniform, I think is a very noble one."
"You don't want to see these five prisoners go back to combat," Clinton said. "There's a lot that you don't want to have happen. On the other hand you also don't want an American citizen, if you can avoid it, especially a solider, to die in captivity. I think we have a long way to go before we really know how this is going to play out."
She added that the decision to spring Bergdahl could be seen as the type of "hard choices" that happened to be the title of her new book, at which point everybody ducked.
[h/t Associated Press]
[Image via JStone / Shutterstock.com]
——
>> Follow Evan McMurry (@evanmcmurry) on Twitter
Have a tip we should know? tips@mediaite.com