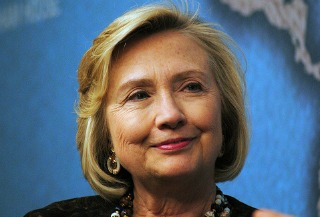 A new report tonight from The New York Times reveals that during Hillary Clinton's entire tenure as Secretary of State, she used only a private email account to conduct official business and those emails were not stored on government servers.
The Times report says at no point did Clinton hold a government email address while heading up the State Department. How rare is this? As one former director of litigation at the National Archives said, "It is very difficult to conceive of a scenario — short of nuclear winter — where an agency would be justified in allowing its cabinet-level-head officer to solely use a private email communications channel for the conduct of government business."
Clinton did end up handing over her emails to the government, but only two months ago, and the Times specifically notes her advisers "decided which ones to turn over to the State Department."
And all of this, by the way, may be in violation of federal requirements on government agency correspondence.
Nick Merrill, a Clinton spokesman, said Clinton used her email account in the "letter and the spirit of the rules." But he was pressed even further:
Mr. Merrill, the spokesman for Mrs. Clinton, declined to detail why she chose to conduct State Department business from her personal account.

Mr. Merrill said that because Mrs. Clinton was sending emails to other State Department officials at their government accounts she had "every expectation they would be retained." Mr. Merrill declined to answer questions about any emails that Mrs. Clinton may have sent to foreign leaders, people in the private sector, or government officials outside the State Department.
The timing is not terribly good for the Clintons, as reports over the past day have indicated Hillary Clinton will announce her 2016 presidential bid next month.
[image via Chatham House]
— —
Follow Josh Feldman on Twitter: @feldmaniac
Have a tip we should know? tips@mediaite.com
Josh Feldman - Senior Editor