Hillary Clinton Slams Sanders Campaign 'Lies' in Confrontation With Activist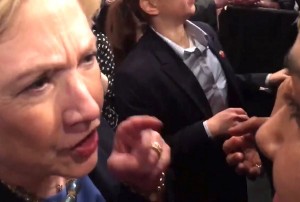 Facing a close run against Bernie Sanders in upcoming primary races, former Secretary of State and current Democratic presidential frontrunner Hillary Clinton is beginning to show the bare knuckles of the brawler she needs be to win. Following a campaign rally at the State University of New York Purchase campus on Thursday, Greenpeace activist Eva Resnick-Day asked Hillary if she would reject donations from fossil fuel interests, and Clinton laid into her but good:
I do not, I have money from people who work for fossil fuel companies, I am so sick, I am SO SICK of the Sanders campaign lying about that, I'm sick of it!
A few months ago, FactCheck.org looked into the claim, and essentially found that Clinton is correct, the donations her critics refer to are not contributions from fossil fuel companies or associated PACs:
According to records compiled by the Center for Responsive Politics, the Clinton 2016 campaign has received about $160,000 to date from oil and gas company employees. That's the third highest among presidential candidates — Republicans Ted Cruz and Jeb Bush top the list with $499,000 and $273,000, respectively. (Democrats Bernie Sanders and Martin O'Malley, both of whom agreed to the pledge, have received $13,000 and $6,200, respectively, from employees of the oil and gas industry.)
For some context, the Clinton campaign raised more than $77 million as of Sept. 30, and the fossil fuel industry did not rank among her top 20 donors by industry.
Hillary's critics also point to donations made to the Clinton Foundation, which is not affiliated with Clinton's campaign.
Have a tip we should know? tips@mediaite.com