Robin Meade Continues Beating CNN & MSNBC In Ratings, Adds New Career Path: Music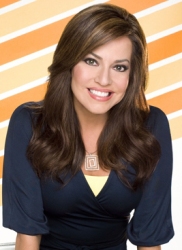 Fox & Friends has the most viewers of any cable news show in the morning, by far, but to find second place in the A25-54 demographic you have to look beyond CNN and MSNBC.
HLN's Robin Meade, host of Morning Express continues to grow and succeed. We talked to Meade about the ratings, her boss' exit and a new career path – music. We have a preview of her first song too.
Meade rocketed HLN's morning show to #2 on cable news in the demo during the third quarter of 2010, and was up 10% year-to-year – the only program to grow in that category. It was the sixth consecutive quarter that HLN beat MSNBC's Morning Joe in the demo, and the 18th consecutive month. "We're allowed to basically say what the viewer is thinking," Meade told Mediaite last week. "In a morning show situation, that has equated to ratings because viewers identity with that."
Whatever Meade is doing, it's working. She says her show focuses on quick stories, usually 20 seconds or less, that allow viewers to tune in and out as they begin their morning. "Our job as a morning show is to be a guardian of people's emotions," she said, crediting some of the ratings success to the success of her book and exposure gained from last year's book tour.
Meade had only positive things to say about her former boss, Ken Jautz, who moves within the building to become head of CNN. "[Ken had] a clear vision of what is expected and what the network is going to be, intends to be, and what we're going to provide for viewers," she said. "There was no, 'let's throw it against the wall and see what sticks, and then let's change it.'"
Now with Scott Safon coming in, Meade thinks HLN is situated to succeed even further, where his "creative brain" can launch further marketing and publicity opportunities, and HLN #2 Bill Galvin can continue the "vision" of Ken.
While the book, Morning Sunshine!, helped further Meade's appeal across the country, she'll now have a new outlet – singing. She's been using her vacation days to record 12 songs now, and while there's no set date for an album release, her first 'single' comes out next week. Working with songwriter and pianist Jim Brickman, "Welcome Home," comes out shortly – and a video has been shot as well (we have an exclusive preview of the song below). For the rest of the songs, she has recorded and written with successful country producer/songwriter Victoria Shaw, who was a co-producer for Lady Antebellum and wrote "The River" for Garth Brooks. "I really have been welcomed with open arms in the Nashville community," Meade said.
Meade said she won't be "leaving news," but music as a side project gives her the chance to "express that other side." "I hope people end up hearing the music and may go, 'oh I never watched her before that's interesting,'" said Meade. "Much like the book tour…introduced us to new people."
Here's an exclusive 30-second preview of the song "Welcome Home":

—–
» Follow Steve Krakauer on Twitter
Have a tip we should know? tips@mediaite.com