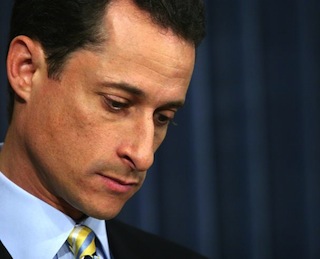 Despite what the weather thinks (it was in the 80s this week!), we are deep into Autumn and you know what that means; the holiday season is right around the corner! And, if you're stuck on gift ideas, I have the perfect present for, say, people who have read every single book ever written by human kind and therefore would read anything just because it's new! It's a memoir by one of the women Anthony Weiner sexted!
The book has been written by Traci Nobles, a former cheerleading coach, and one of the women Weiner engaged in "adult" communication with. Her book is called I Freinded You, a typo that is apparently on purpose and, I suppose, to represent the spelling of Weiner's name and how a letter switch could make it a euphemism for a penis so they switched the…
Oh man. I know my opinion doesn't mean much but I'm pretty sure that, if someone has to look at four different sources to make sure your title is a joke and not an accident, the joke is maybe a bit too clever for it's own good.
The Dong Goodbye: Jon Stewart Claims Anthony Weiner Lost NY-9 To The GOP
Anyway, what kind of fun stuff does the book contain? Well, The Daily Mail has some excerpts. Lets take a peek!
"Excerpts from the book, which are being published exclusively by MailOnline, show how Weiner, 47, sent explicit messages from his congressional office and boasted about masturbating in the House toilets.

In the exchanges he complained that spending time with his wife's parents is 'exhausting' as 'they are a bit backwards thinking'.

Mrs Abedin, 35, a personal aide and deputy chief of staff to U.S. Secretary of State Hillary Clinton, revealed she was pregnant in the middle of Weiner's Twitter photo fiasco.

'I wish I had an escape route sometimes,' he wrote."
Huh.
Well, that's kind of depressing. Where's the sexy stuff?
"In several of the messages, Weiner claims to be 'sexting' from his congressional office.

'It's a big office and you know that's not the only thing here that's big,' he wrote in one message.
In another he told Ms Nobles that he needed to go to the bathroom before going out on the House floor.

'I had to do some wiping in the bathroom hehe,' he wrote minutes later."
Ha ha ha ha! That guy sure did ruin his life and career!
So, if you need to buy a gift for someone who literally has nothing else that they could possibly read, this book sounds perfect!
(h/t HuffPo)
Have a tip we should know? tips@mediaite.com