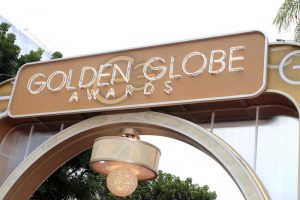 At long last! It's time for the awards show that you describe to your confused parents as "the fun one": the 2017 Golden Globes, hosted by Jimmy Fallon Sunday night on NBC.
This year's awards will kick off at 8 p.m. EST Sunday night live from the Beverly Hilton Hotel in Beverly Hills, the site for the annual affair. It will mark Fallon's first time hosting the event; he joked in a recent TV commercial, "The Golden Globes are exciting for me to host because I get to wear this tuxedo I'm already practicing wearing every single night and just handing out awards to random people."
The Hollywood Foreign Press Association is responsible for the list of nominees and subsequent winners, and this year's event — the 74th in its history — is sure to be a good predictor of how the rest of this year's award's season will likely go.
Red Carpet Live begins at 6 p.m. EST on E!, followed by the NBC telecast of the awards show at 8 p.m. NBC will also be broadcasting its Golden Globes Arrival Special at 7 p.m. EST, and people looking to broadcast the award show will need a verified cable subscription to watch along on NBC.com.
It's almost here! The HFPA Presents Globes Red Carpet streams LIVE on Twitter at 3pm PST! https://t.co/XSFLtnDaUi #GoldenGlobes

— Golden Globe Awards (@goldenglobes) January 8, 2017
Additionally, the Golden Globes Twitter account will be livestreaming the arrivals of the celebrities beginning at 6 p.m. EST as well. Here is a look at the nominees for the most hotly-contested categories at the 2017 Golden Globes:







Tune in to Mediaite for coverage of all the can't-miss moments from the 74th annual Golden Globes!
[images via Golden Globes]
Have a tip we should know? tips@mediaite.com