Watch the Super Tuesday Results LIVE Here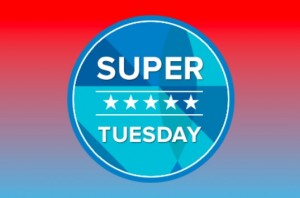 The election of 2016, which seems like it started decades ago, is finally about to hit the biggest day on the political calendar: Super Tuesday. Both the Democrats and Republicans set their sights on a large numbers of states and an even larger number of key delegates, and the outcome after Tuesday will have a permanent impact on the race going forward.
Eleven different states will hold voting for the Republicans on Tuesday, with the following delegate count up for grabs:
Alabama – 50
Alaska – 28
Arkansas – 40
Georgia 76
Massachusetts – 42
Minnesota – 38
Oklahoma – 43
Tennessee – 58
Texas – 155
Vermont – 15
Virginia – 49
As for the Democrats, voting conventions will be held in:
Alabama – 60
American Samoa – 10
Arkansas – 37
Colorado – 79
Georgia – 117
Massachusetts – 116
Minnesota – 93
Oklahoma -42
Tennessee – 76
Texas – 251
Vermont – 26
Virginia – 109
Democrats international – 17
All of the main cable news networks will be carrying the results live throughout the day and night on Super Tuesday.
Fox News will provide special coverage of the Super Tuesday primaries and caucuses live from New York on March 1st. Beginning with Fox & Friends First at 5AM/ET, all of FNC's signature daytime programs will be presented at their regular times with an additional America's Election Headquarters, co-anchored by Bret Baier and Megyn Kelly, from 6PM-1AM/ET as they breakdown all of the results from participating states. Live coverage will extend from 1AM-4AM/ET led by co-anchors Eric Shawn and Heather Childers. Also joining the evening's coverage will be Bill Hemmer on the Bill-board and Martha MacCallum analyzing the exit poll data.
Foxnews.com will provide a "Fox News Super Tuesday Digital Special" from 9-11PM/ET with live coverage and analysis from Melissa Francis, Jedediah Bila, Charles Payne, Meghan McCain and Jesse Watters.
Fox Business will begin it's primetime Super Tuesday coverage at at 6PM/ET, as Charles Payne will kick off the coverage with a special edition of Making Money w/Charles Payne, followed by Lou Dobbs Tonight at 7PM/ET. FBN's Neil Cavuto will take over for the night at 8PM/ET to host a special edition of Cavuto: Coast to Coast with coverage and analysis as the results come in. Cavuto will be joined with FBN's Connell McShane from the Cruz Headquarters in Texas, FBN's Blake Burman from the Clinton Headquarters and FBN's Peter Barnes from the Trump Headquarters.
CNN: Live from the CNN Election Center in Washington, Dana Bash, Wolf Blitzer, Anderson Cooper and Jake Tapper will lead the network's comprehensive coverage of the first Super Tuesday Primary Election, beginning at 6pmET to 2amET. John King will report throughout the night from the DC Magic Wall. CNN correspondents will be positioned across the country; Jeff Zeleny and Brianna Keilar will be reporting from the Democratic Presidential campaigns and Sara Murray, Manu Raju, Sunlen Serfaty and Phil Mattingly, will be reporting from the Republican Presidential campaigns.
MSNBC: Rachel Maddow and Brian Williams Lead Primetime Coverage Beginning at 6 p.m. ET, Chris Matthews in Texas. MSNBC and NBC News Teams Report Live from Key Primary States.
Rachel Maddow and Brian Williams anchor primetime coverage from election headquarters in New York beginning at 6 p.m. ET. Chris Matthews leads the team in Houston, Texas — the state with the most delegates up for grabs on Tuesday. Daytime anchors stationed throughout key voting states include: Andrea Mitchell in Florida; Craig Melvin in Tennessee; Tamron Hall, Chris Hayes, and Kate Snow in Texas; and Chris Jansing and Thomas Roberts in Virginia. At 5 p.m. ET, Chuck Todd anchors "MTP Daily" from New York.
Watch live results below, via ABC News:

ABC Breaking News | Latest News Videos
Watch live results below, via NBC News:
Watch live results below, via FOX26/Texas:
Have a tip we should know? tips@mediaite.com