HuffPost Investigates Alan Grayson's Claim: Is the Tea Party Just Like the KKK?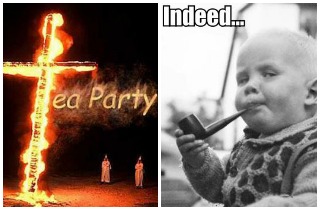 Sometimes a slur made against conservatives as part of a fundraising pitch to partisan Democrats is just that. Unless, that is, you're an investigative reporter with The Huffington Post. In that case, it might also be an honest query worthy of an extensive investigation.

Rep. Alan Grayson (D-FL) has always eschewed collegiality when it comes to his fellow members of Congress – at least, those with an "R" after their names. His latest offense against comity was to send a message out to his email list with an image of a burning cross. The message linked the tea party to the Klu Klux Klan. Even after his fellow Democrats in leadership denounced Grayson's email, the Florida congressman stood by the claim. "If the hood fits," Grayson said cheekily.
And that should be that. A tactless, self-obsessed boor behaves in a fashion to which political observers have become accustomed. The end. Alas, enter Huffington Post reporters Ryan Grim and Luke Johnson to rob us of that happy outcome.
"Is The Tea Party Racist? Ask Some Actual, Out-Of-The Closet Racists," the headline blared.
"Tea Party and Republican leaders have been quick to condemn Rep. Alan Grayson (D-Fla.) for his recent comparison of the tea party and the Ku Klux Klan," they began (ignoring Democrats like DNC Chair Debbie Wasserman Schultz (D-FL) and President Barack Obama's former Deputy Chief of Staff Jim Messina).
It turns out, according to the results of Grim and Johnson's investigation, the last remaining members of the Klan who are not entirely on the FBI's payroll do not identify with the tea party. If only for the fact that "tea party" is an utterly meaningless and nonspecific term at this point in American history.
"The tea party is a very widespread organization and there's many tea party groups in the country, so I don't know if they are necessarily even in agreement with each other," pastor Thomas Robb, the self-identified national director of the Knights of the Ku Klux Klan, told HuffPost. "It's hard to come up with a name of a group and say well how do they compare with another group."
So, that's that, right? Game over? Ask a silly question, get a silly answer? You would think so…
"But the conversation continues beyond even the Klan itself, and insight into how openly racist people view the tea party can be gleaned from a long-running debate among white supremacists at the website Stormfront.org," Grim and Johnson continued in their 1,270 word piece.
The excruciatingly racist website does, according to the HuffPost investigation, include racists who identify with the tea party. "Many of the racists participating in the Stormfront discussion say they themselves are either tea party members or have attended multiple tea party meetings," they report. "But, to be sure, the tea party has quite literally millions of supporters and many, many of those people are not remotely racist, as the racists on Stormfront readily lament."
In summation (and there must be summation because there are at least 800 words left in this opus), not all tea party members are racists but all racists are tea party members. Feeling validated yet, liberals? You better be, because a number of phone calls were made and man-hours devoted today to preserving your sense of moral superiority over conservatives.
But, remember everyone, it's Republicans that are poisoning the discourse at every turn.
[Photo via Alan Grayson/MemeMaker]
— —
> >Follow Noah Rothman (@NoahCRothman) on Twitter
Have a tip we should know? tips@mediaite.com