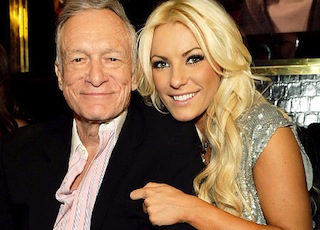 Throughout the Rep. Weiner scandal, radio host Rush Limbaugh has repeatedly been evoking the name of Hugh Hefner, saying that, unlike the troubled Congressman, the Playboy founder knew how to be a real ladies' man. Now though after decades of being looked up to by men across the world, it appears that Hefner is now teaching us all something new: how to deal with a broken heart. Hefner was set to marry model Crystal Harris this week, however, Harris broke off the engagement only five days before the wedding. Ever since, Hefner has been tweeting how hurt and surprised (as well as retweeting a post implying that Harris only got engaged as a publicity hoax) he is. One tweet in particular is gaining people's attention though as it shows how Hefner is using the cover of the next issue of Playboy to enact a little bit of revenge.
One of the strangest wrinkles in the story has been the fact that Harris was supposed to be on the cover of the July issue with a huge headline "Introducing Mrs. Hugh Hefner." Not only does this rule out the usual revenge tactic of spreading naked pictures of your ex on the Internet since, well, he was gonna do that anyway, it makes for a slightly awkward situation since the issue has already been printed. Last night, though, Hefner tweeted this: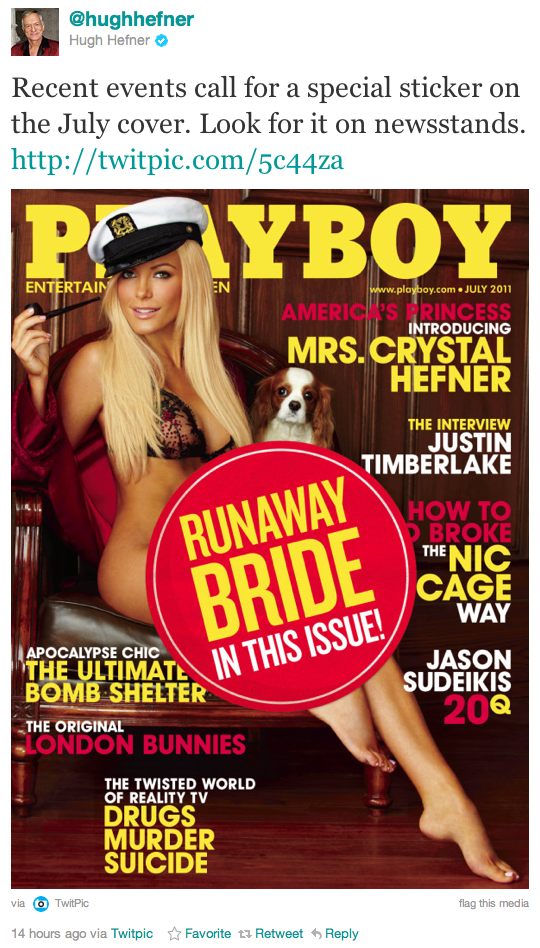 Nice.
It could be worse. He could badmouth her using a secret code of stars in the letter "P." That's what my friend's older brother totally told me he'd do.
(h/t TMZ)
Have a tip we should know? tips@mediaite.com