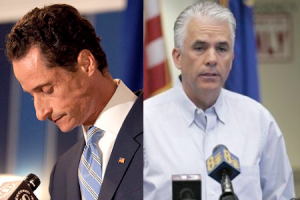 Congressman Anthony Weiner has had a rough couple of weeks, and it's been confirmed that he'll officially be resigning from Congress after initially resisting the idea and facing pressure from his own party to leave. There has been wall-to-wall coverage of his online interactions with young women, women have spoken out, and Nancy Pelosi has called for ethics investigations into the case.
Media coverage of political sex scandals always tends to be skewed towards the… well, scandalous. Weiner's lewd behavior makes for a compelling story, but other sex scandals don't get the same treatment because they're not as salacious. John Ensign, the former Nevada senator, resigned from office less than two months ago for having an affair with the wife of his top campaign aide, but there was far less media coverage of his affair when you compare it to Weiner's escapades.
On June 14, Weiner was covered extensively on all three major cable news channels. CNN covered the Weiner fallout on American Morning, CNN Newsroom, The Situation Room, and Anderson Cooper 360. Fox News featured the story on Fox & Friends, America's Newsroom, America Live with Megyn Kelly, Studio B, Your World with Neil Cavuto, Special Report with Bret Baier, and Fox Report with Shepherd Smith. But it was MSNBC that had the most Weiner coverage Tuesday, with every show covering the story to some degree except Morning Joe, Dylan Ratigan, Rachel Maddow, and Ed Schultz.
This stands in stark contrast with the amount of media coverage devoted to Ensign on the day after he formally submitted his resignation: April 22. CNN and Fox News didn't devote much time to covering the story, while MSNBC covered the story on most of their daytime shows. Rachel Maddow, who has spent the last few weeks pointing out some Republican members of Congress who have done worse than Weiner, led with the Ensign story on her program that evening.
In the weeks that led up to his resignation, Ensign was barely mentioned on the three cable networks, and on May 3, the day he officially left the Senate, there is no indication that CNN or Fox News devoted any coverage to it. MSNBC only covered it on The Daily Rundown, and HLN's Robin Meade briefly covered the Senator's farewell speech.
Ensign's resignation was unquestionably overshadowed by the death of Osama bin Laden, which delivered massive ratings for the networks in the few days that followed. It is easy to understand how Sen. Ensign's departure was overlooked, but when a government official decides to leave office after having an affair, and being charged by the Senate Ethics Committee of breaking federal laws to cover it up, you would think this would warrant at least some coverage.
The FBI actually launched an investigation into the Ensign scandal. The senator admitted that his parents paid off the woman he had the affair with, Cynthia Hampton, and her husband after they severed ties to Ensign's office.
Despite all this, Ensign's affair wasn't the lead story for over a week, and the media wasn't obsessing over every little thing about his scandal. A Google search of the words "Ensign admits" from June 15, 2009 (the day Ensign admitted to the affair) to June 16 shows roughly 15,000 results. Searching "Weiner admits" from June 6 (the day of his press conference) to June 7 shows over 500,000 results.
And then, of course, there was the difference in political reactions. Current DNC Chairwoman Debbie Wasserman Schultz has called for Weiner to resign, saying in a statement that Weiner has "become an unacceptable distraction" and "[t]he behavior he has exhibited is indefensible." On the other hand, when Michael Steele was confronted about Ensign's affair less than a month after it happened, he dismissed it as "old news, old school." And when he was asked about it again in early 2010, he said, "I wasn't chairman of the party at the time all that took place so I have no opinion on it."
What made Weiner's scandal such prime media ambrosia were the unique conditions surrounding it. Dirty pictures, dirtier texts, and interactions with underage women. Most of what Ensign did was kept private and reported over time by news organizations more credible than TMZ.
Also, "Ensign" isn't synonymous with a sex organ. So there's that.
Have a tip we should know? tips@mediaite.com
Josh Feldman - Senior Editor