Huh. Turns out Tomi Lahren's Great Great-Grandfather Was What She Would Call an 'Illegal'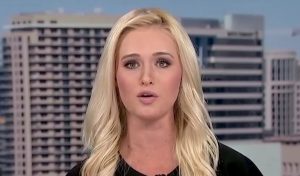 Recently hired Fox News contributor Tomi Lahren has had a lot to say about undocumented immigrants, namely that they should leave the country. She's so averse to undocumented immigrants that she took to Twitter back in February to whine about the semantics of the label:
But something she seems quite unaware of is that all of her success — which includes blasting "liberal snowflakes" on an internet talk show and building a base of angry white followers — stems from a great great-grandfather who was indicted for forging documents so that he could live in America.
Writing for Wonkette, Jennifer Mendelsohn  broke it down in a Thursday post in which, via lots of digging and searches on Ancestry.com, Mendelsohn found that Lahren's great great-grandfather, a certain Constantin Dietrich, faked his citizenship with forged documents. Dietrich went on trial for forgery in Bismarck in May of 1917,  according to Mendelsohn's research.
This story and its conception may seem petty — Lahren's great great-grandfather clearly disagree about immigration laws, and so what? Apart from the biting irony of it all, there's the fact that what Lahren and other immigration hardliners so often ignore is the contributions of immigrants and their families to society.
Beyond the taxes they pay, their different ideas and backgrounds all shape American society as well as the American economy often in very positive ways. Their success becomes America's success, and America becomes a better country stepping up and leading with compassion.
After all, had Lahren's great great-grandfather chosen to make a life in America, she wouldn't be here today to spit ignorance and hatred into the national political dialogue. Among American conservatives, Lahren is something of a superstar with nearly unparalleled celebrity among conservative millennials, in particular. And to be clear, she wouldn't even be able to make these contributions had one Constantin Dietrich not defied stringent, unfair immigration laws to make a life and a family in this nation.
Editor's note – this post has been updated since publishing to properly reflect that documents show that Lahren's ancestor was indicted and acquitted.
This is an opinion piece. The views expressed in this article are those of just the author.