'I Genuinely Can't Stop Thinking About This': Twitter Reacts to Image of Trump Leaving Melania Behind…
One image from President Donald Trump's inauguration late last week that's getting a big reaction on Twitter is this photo of the President walking to meet Barack and Michelle Obama while Melania Trump lags significantly behind. Eventually, the Obamas greet her. Entertainment Weekly's Marc Snetiker Tweeted the photos:
I genuinely can't stop thinking about this pic.twitter.com/NW7uOu96tO

— Marc (@MarcSnetiker) January 23, 2017
In less than 24 hours, the image has been retweeted 13,000 times and liked 26,000 times. It even got a retweet from NBC's Katy Tur, though her tweet has since been deleted.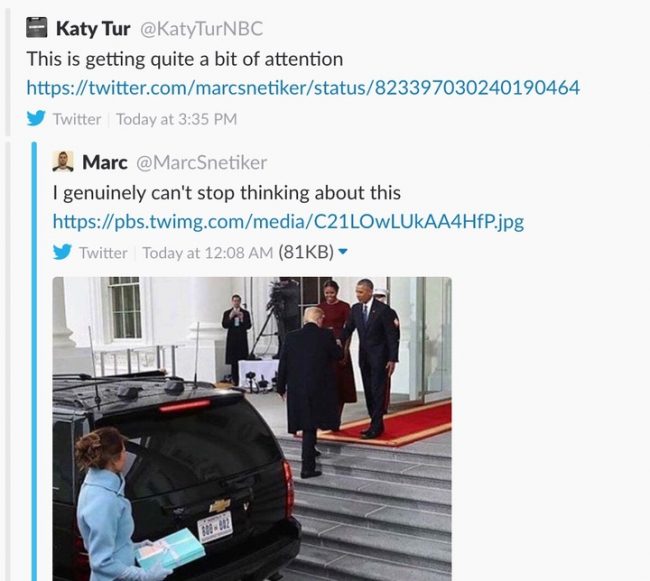 Here's some of what people are saying about Trump's manners vs those of the Obamas.
@MarcSnetiker my 8 yo son just said "Manners count, Mom, esPECially when you are a President."

— Ana Gasteyer (@AnaGasteyer) January 23, 2017
@AnaGasteyer @MarcSnetiker My 5-year-old nephew asked the day after the election, "But how can someone so mean be president?"

— Captain Varitek (@slice63) January 23, 2017
@MarcSnetiker @Dripps This makes me very sad for Melania. And I don't care what people say about that.

— Maria Langer ? (@mlanger) January 24, 2017
@MarcSnetiker @Republican4Hil If she doesn't know he's all about him by now, she never will. And the Obamas are pure class.

— eResist (@elyse4design) January 23, 2017
@MarcSnetiker "there, there. it will be okay."

— Taylor Trudon (@taylortrudon) January 23, 2017
@MarcSnetiker @gigabarb Try watching this instead https://t.co/IJ2P3cXmy5

— Florian Otel (@FlorianOtel) January 23, 2017
@MarcSnetiker @SophiaNothing that man don't know nothing about chivalry.

— Casia (@Sholsten83) January 23, 2017
I'm not a Melania fan, but this is disturbing me, too .. @MarcSnetiker @lovemrpibb2

— Amy Gallop (@AmyGallop66) January 23, 2017
@MarcSnetiker When a man walks ahead of a woman, it's just terrible manners. My ex used to do it to me.

— sue302 (@sue302) January 23, 2017
@MarcSnetiker @AnaGasteyer I agree. Very disturbing. I showed my 8 & 10 yr old sons and explained what SHOULD have happened.

— Stephanie H (@StephiRuth) January 23, 2017
@MarcSnetiker @IcedTea17 I would have stayed in the damn car.

— Veronica (@VeronicaBJerome) January 23, 2017
Twitter users also compared footage of the two Presidents walking to their inaugurations:
@MarcSnetiker @mrbenjaminlaw Try this then…… pic.twitter.com/ItBYuOlmZS

— Gibbsy (@MsDugibbley) January 23, 2017
[featured image via Twitter/@MarcSnetiker]
Have a tip we should know? tips@mediaite.com