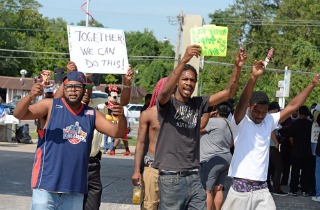 The unrest in Ferguson has inspired quite the national conversation about police violence and racism. But one Illinois school district issued a directive telling teachers not to engage in any kind of discussion about the events in Ferguson. Edwardsville Superintendent Ed Hightower explained that while they would normally be okay with teachers discussing current events with students, "this situation in Ferguson-Florissant has become a situation whereby there are so many facts that are unknown."
And if students brought up Ferguson in class, teachers were instructed to change the subject. This directive reportedly came after parents complained about teachers sharing their opinions on Ferguson.
Well, naturally, banning a topic of conversation did not go over well, and Hightower had to walk it back a bit. He said that parents were concerned about student safety and he had no intent of censoring.
"We felt it was important to take the time to calm a potential situation at the high school and to prepare administrators and teachers to approach this critical issue in an objective, fact-based manner. Everyone has an opinion — the sharing of which can be polarizing. Far too many facts remain unknown, and without these facts, none of us is in the best position to moderate between opposing views."
He did say that teachers will get to discuss issues of race relations and justice in the classroom, while still exercising caution in any engagement of Ferguson itself.
[h/t WaPo]
[image via R. Gino Santa Maria/Shutterstock]
— —
Follow Josh Feldman on Twitter: @feldmaniac
Have a tip we should know? tips@mediaite.com
Josh Feldman - Senior Editor