I'm Gonna F*ck You Up: Alec Baldwin Calls Reporter 'Bitch' And 'Queen' In Twitter Rant, Suspends Account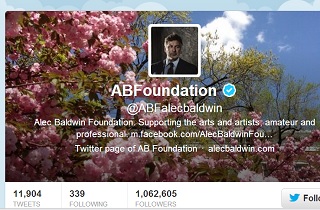 Actor Alec Baldwin took understandable exception to The UK Daily Mail reporter George Stark's story, accusing Baldwin wife Hilaria Baldwin of tweeting during the funeral of late Sopranos star James Gandolfini on Thursday. What Baldwin did about it was unhinged, and unacceptable, as he went on a homophobic Twitter rant that included epithets like " toxic little queen," and threats of violence. Baldwin's account has since been suspended.
Stark's story alleged that Hilaria Baldwin was tweeting about frivolous things, like making smoothies with Rachael Ray, while attending James Gandolfini's funeral with her husband. Mrs. Baldwin later explained that she had not brought her phone to the funeral, and the reporter had simply misinterpreted the time stamps on the tweets:
I don't know what hurts more: people randomly and maliciously writing lies about you, or the people who actually believe them

Here is some info… When someone tweets something at a certain time, and you retweet it later, it posts the TIME the first person tweeted
Several of the tweets that Stark cited, however, were not retweets. There could, however, be other explanations for how the tweets were sent. That's not really the point, anymore.
Her husband wasn't quite so measured:
My wife and I attend a funeral to pay our respects to an old friend, and some toxic Brit writes this fucking trash

If put my foot up your fucking ass, George Stark, but I'm sure you'd dig it too much

I'm gonna find you, George Stark, you toxic little queen, and I'm gonna fuck…you…up.

George Stark, you lying little bitch. I am gonna f%#@ you up.
Alec Baldwin' s publicist sent the following statement to The Huffington Post:
"It is disgraceful that this reporter manufactured a story and never called for comment or explanation — especially when it needlessly diverted attention away from a day to honor the memory of a beloved figure like Mr Gandolfini."
It's even more disgraceful, however, when a supposedly liberal celebrity tweets homophobic and gendered insults to his million-plus followers, many of whom are probably gay, or female, or just decent people who don't play that.
Have a tip we should know? tips@mediaite.com