Inside Look At Gaddafi Compound: Gay Porn, Spinning Teacups, And A Golden Mermaid Sofa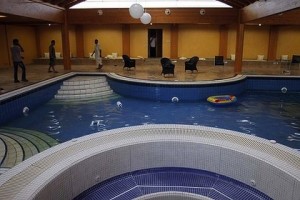 These are a few of his favorite things…
The Condoleezza Rice photo album discovered at Moammar Gaddafi's compound was just the tip of the eccentric iceberg. This week Libyans got an inside look at the Gaddafi family riches and helped themselves to whatever they could get their hands on.
According to the Washington Post, the smell of opulence wafts throughout all the Gaddafi homes. A villa belonging to son al-Saadi Gaddafi held several cars, including a BMW, an Audi, and a Toyota. The garage is decorated with a mural depicting a lavish sports car. There were also plans to purchase a yacht. But not just any yacht, a 7-million-euro yacht. That's over ten million dollars. Gaddafi also had a soccer (sorry, football) field outside and several tents, one of which "housed guards and was filled with ammunition."
Then, of course, there's the porn. Like Osama bin Laden before him, Gaddafi was in possession of a gay porn DVD called "Boyz Tracks." A quick Google search turned up no relevant answers.
Then, of course, there are al-Saadi's ties to Hollywood. He previously worked with a firm called Natural Selection, LLC, which has been involved in the production of several Hollywood films, like 2010's The Experiment, starring Adrien Brody. Gaddafi and his business partner, Matty Beckerman, were planning on funding several movies over the next few years before Gaddafi's assets were frozen. And when Libyans were raiding the compound, they found a black cloth from the back of a director's chair reading "Executive Producer al-Saadi Gadhafi."
Meanwhile, al-Saadi's sister, Aisha Gaddafi, had her own villa with piles of children's clothes, a pink travel cot, a golden sofa in the shape of a mermaid, and a large indoor swimming pool. One resident was bewildered to see just how opulent the place was, saying, "I can't even believe what I am seeing." In fact, according to locals, "a small neighborhood clinic was razed to make room for her home" several years ago. Wow. And this is the nice Gaddafi.
But lest you think that the Libyan people are engaging in rampant looting, one of them claims this is not the case.
[Seifallah Gneidi] said rebels are not condoning looting of private property, and only allow the wrecking of symbols of the Gadhafi family's abuse of power.
One rebel captured footage inside Aisha Gaddafi's bathroom (which would sound wrong in any other context). Footage below:
But perhaps the biggest sign of grand opulence in the entire Gaddafi compound is the mini-amusement park in the gardens. Gaddafi had a full-sized carousel and spinning teacups. It's been described as his own personal Neverland. Rebels entered the gardens and were completely taken aback by what they saw.
[O]ne man could only stare in disbelief at this theme park within a warzone. He snorted: "Libyan children have no childhood, their lives are destroyed by Gaddafi. But his children, his family, have everything."

As if all this weren't enough, Col Gaddafi had also used some of the estimated $470 billion he has plundered from the country to build a zoo, stocked with animals supplied by fellow African despots.
I know calling people "Bond villains" has become a great cliché, but I think it's fair to say that Gaddafi is a Bond villain with a strong hint of Prince.
h/t Washington Post
Have a tip we should know? tips@mediaite.com
Josh Feldman - Senior Editor