Iranian State TV Targets Jon Stewart for Directing Movie 'Commissioned by His Masters'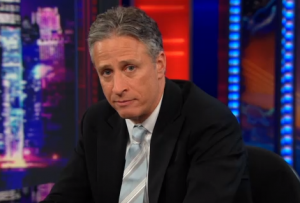 While John Oliver was busy filling in this summer on The Daily Show, Jon Stewart was out filming a movie; Rosewater, based on the Iranian imprisonment of journalist Maziar Bahari. Ahead of the movie's release, Iranian state TV has targeted Stewart and the "Zionist lobby" he's clearly working on the movie with.
Bahari's imprisonment actually relates, in part, to a mock interview he did with Daily Show correspondent Jason Jones during the Green Revolution in 2009, in which Jones pretended to be an American spy. Bahari's captors actually interrogated him about being in contact with an American spy, and showed the mock interview as proof.
And it is with all this in mind that IranWire, a site run by Bahari, reported on an Iranian state TV report on Stewart's film, and they're not exactly expecting it to be fair. Case in point, here's part of the report, translated into English by IranWire:
"Jon has been directing an ultra-formulaic movie commissioned by his masters. Jon's filming Rosewater, the story of the American-Israeli sedition in 2009."
A media critic they speak to decries it as "anti-Iranian propaganda," and says Stewart's clearly being manipulated by the "Zionist lobby."
I'm guessing this one probably won't be solved by another round of Fuckface von Clownstick.
Watch the Iranian state TV report below:
And you can watch the Daily Show segment that got this whole thing started in the first place here, via Comedy Central:
[h/t NY Times]
Have a tip we should know? tips@mediaite.com
Josh Feldman - Senior Editor