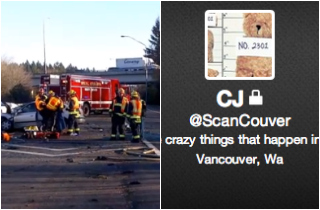 Caran Johnson, a woman in Vancouver, WA who tweets out police scanner updates under the handle @Scancouver, unknowingly tweeted about her husband's death in a car accident Wednesday afternoon.
"This accident sounds horrible," she wrote, following news of a bad accident on Vancouver's I-205. "I hate that section of I205 S. Too many on ramps, speeders and too few lanes."
After about fifteen minutes, Johnson began to get worried.
"I'm trying not to panic, but my husband left work early and he drives 205 to get home," she wrote. "He's not answering his phone." After half an hour: "What do I do now? He might have pulled over because he was feeling faint and then passed out or had a seizure. He has epilepsy."
Nearly two hours after her original tweet, Johnson wrote: "It's him. He died." Her husband, 47-year-old Craig R. Johnson, had been killed when his car crossed the median was hit by a truck; the other driver was taken to the hospital with serious injuries.
Johnson also tweeted often with a state trooper named William Finn. Finn had been tweeting about the accident, but stopped once he realized that her husband was missing.
"It was terrible," Finn said to CNN. "Immediately, I went into overdrive mode, and I stopped tweeting the whole thing. I didn't want someone to find out over Twitter that their husband passed away. I didn't want her to find out that way. That is a hard thing to go through."
Johnson's Twitter feed has since been locked. Others on Twitter have tagged her in their thoughts:

Watch a segment with Trooper Finn below, via CNN:
[h/t CNN / Washington Times]
[Image via screengrab]
——
>> Follow Evan McMurry (@evanmcmurry) on Twitter
Have a tip we should know? tips@mediaite.com