Iraq War Veteran Scott Olsen Has Skull Fractured By Police At Occupy Oakland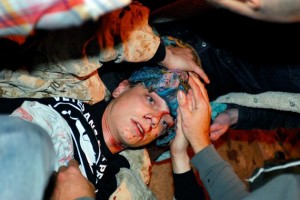 Scott Olsen, a 24 year-old Iraq war veteran, remained in the hospital Thursday (with conflicting reports saying he is in critical condition and under sedation, while others reporting he's been upgraded to fair condition) after being hit in the head with a projectile during the quelling of the Occupy Oakland crowd late Tuesday night. Olsen had a fractured skull and brain swelling. A video, posted to YouTube by user "pquegg," shows what appears to be Olsen on the ground, as other protesters rushed to his aid. A "flash bang" projectile is then apparently thrown into the gathering crowd (although police have denied using the flash bangs, according to KGO AM in the Bay area, saying that the loud noises heard were M-80s thrown at police, and the smoke was from tear gas that the police launched), and they scatter as the loud bang and light go off (language is a little NSFW):
In a second video, protesters captured a semi-conscious Olsen being carried from the scene (again, language is a little NSFW) as people scream for a medic:
It's unclear whether Olsen's injuries occurred before the projectile was launched into the crowd, after it was launched, or if it was a combination of a prior injury and the explosive. What's definite, however, is that Olsen is in bad shape, and Oakland Police are launching an investigation. Jay Finneburgh, a freelance photographer, posted shots of an injured Olsen during the melee on IndyBay.com, and offered an eyewitness account of the events, saying that Olsen was, "right behind me when he was hit in the head with a police projectile. He went down hard and did not get up."
The Guardian's Adam Gabbatt, who has been keeping a running diary of the events at Occupy protests, spoke with Keith Shannon, Olsen's roommate, who told Gabbart that Olsen was in the 3rd Battalion, 4th Marines and had opposed the war before his first tour (he completed two tours, in 2006 and 2007).
Shannon said Olsen was hit in the head by a tear gas canister or smoke canister shot by a police officer. He said Olsen had a curved scar on his forehead consistent with a canister.
Oakland Mayor Jean Quan told the AP that the decision to take action on Tuesday came after some protesters threw rocks, paint and bottles at the police. Her role in this is especially interesting, as she later told the San Francisco Chronicle's Matthai Kuruvila that she didn't know the raid was going to happen on Tuesday night. Quan was in Washington, D.C. for an event, and left the decision on when to raid the camp up to City Administrator Deanna Santana and interim Police Chief Howard Jordan. Quan's distancing of herself from the protests is not a surprise, and it's not just because of Olsen's injury. Kuruvila brings up Quan's public activism as she was running for office last year:
When Quan was running for mayor, she took part in a July 2010 protest regarding the killing of Oscar Grant, an unarmed passenger, by a BART officer. Quan locked arms with fellow Councilwoman Rebecca Kaplan and others near City Hall to form a barrier between police and people protesting the verdict.
With Olsen's injury, some protesters are upset with her, suggesting that her trip to D.C. was suspiciously convenient. "She was in the front line between cops and protesters," student Emiliano Huet-Vaughn told Kuruvila. "It makes such a difference being in the seat of power. Now she's dispatching cops to beat people up. … She's turned on the people."
Olsen's family spoke to Wisconsin's La Crosse Tribune on Wednesday. "It's just so damn ironic," George Nygaard, Olsen's uncle and also a former Marine, told Kari Knutson. "To do two tours over there and not a scratch. All of a sudden he comes back here and a damn cop hits him with a projectile. He's a brilliant kid. I'm more proud of what he's done since he's been out than when he was in."
Photo credit: Jay Finneburgh, AP
Have a tip we should know? tips@mediaite.com