Jake Tapper Defends CNN Report on Russia by Differentiating From 'Irresponsible' Buzzfeed Leak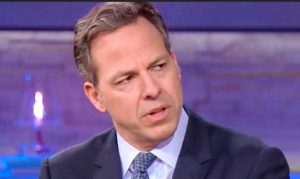 This morning while the political media world awaits the President-elect's first press conference since July while juggling the Rex Tillerson and Jeff Sessions confirmation hearings, there were a number of big time reports that dropped Monday about Donald Trump's ties to the Russian Federation.
For necessary background… First, it was a CNN story from Evan Perez, Jim Sciutto, Jake Tapper, and Carl Bernstein shortly after 5 p.m. EST. In its breaking news report, the CNN quarter of gentlemen reporters noted that both Trump and President Barack Obama — as well as eight ranking members of Congress — had been briefed regarding potentially "compromising personal and financial information about Mr. Trump." The report indicated that Director of National Intelligence James Clapper, FBI Director James Comey, CIA Director John Brennan, and NSA Director Adm. Mike Rogers all briefed the POTUS and PEOTUS alike on the allegations. The CNN report noted that a two-page synopsis further indicated exchanges between Trump surrogates and Kremlin officials.
Then, within an hour and a half, Buzzfeed's Ken Bensinger, Mark Schoofs, and Miriam Elder published a dossier that has long been making the rounds within media newsrooms that others haven't published due to their inability to corroborate the details contained in it. The 35-page document was joined by a disclaimer of sorts by Buzzfeed: while they may be explosive, the claims are "unverified."
So that brings us to today, with many in the media taking both parts of the story — CNN's initial report on the classified briefings as well Buzzfeed's leak — as two sides of the same coin. MSNBC's Mika Brzezinski tore into both media outlets Wednesday, saying, "[T]he two outlets that are actually going with it and releasing it are continuing to make the same mistakes they made in the run up to this election: which is to let their bias get in the way of actually finding out what the facts are and putting them out there."
Tapper defended CNN's decision to release their initial report, emphasizing that their focus was solely on that fact that both the outgoing and incoming Presidents were briefed about the so-called "compromising" materials.
Efforts today to conflate responsible reporting on IC presentation of 2 page annex with irresponsible posting of uncorroborated 35-pager.

— Jake Tapper (@jaketapper) January 11, 2017
Tapper called his work along with Perez, Sciutto, and Bernstein as "responsible reporting," while distancing their work from the Buzzfeed leak carefully, calling it an, "irresponsible posting of [an] uncorroborated 35-pager."
Although Buzzfeed editor-in-chief Ben Smith did not directly invoke the CNN report in his justification for releasing the dossier, it would seem as if Buzzfeed felt at least somewhat emboldened to take the incredibly brazen step to publish the unsourced and unverified material admittedly riddled with other errors and inconsistencies. Smith justified the move writing, "Our presumption is to be transparent in our journalism and to share what we have with our readers. We have always erred on the side of publishing. In this case, the document was in wide circulation at the highest levels of American government and media." However, many have questioned whether or not the digital publication sidestepped a crucial step of the journalist process, deciding to dump information and letting the public decide.
"Publishing this document was not an easy or simple call, and people of good will may disagree with our choice. But publishing the dossier reflects how we see the job of reporters in 2017," Smith continued.
—
J.D. Durkin (@jivedurkey) is an editorial producer and columnist at Mediaite.
Have a tip we should know? tips@mediaite.com