James Clapper Apologizes For NSA Testimony, Upgrades 'Least Truthful' Answer To 'Erroneous'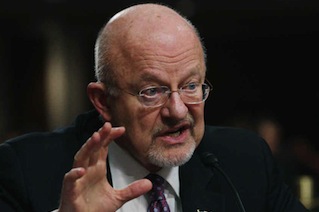 In a letter to Senate Intelligence Committee Chairman Dianne Feinstein, Director of National Intelligence James Clapper formally apologized on Tuesday for an "erroneous" statement during a congressional hearing in which he claimed the NSA was not gathering data on a widespread scale.
Clapper had appeared before the Senate Intelligence Committee on March 12th. When Senator Ron Wyden asked, "Does the NSA collect any type of data at all on millions or hundreds of millions of Americans?" Clapper responded, "Not wittingly."
That answer was revealed as false by Edward Snowden's disclosure of a massive surveillance operation run by the NSA that very much collects data on hundreds of millions of Americans. During an NBC interview after Snowden's leak, Clapper did damage control, stating, "I responded in what I thought was the most truthful, or least untruthful, manner."
In his letter, Clapper claims to have misunderstood Wyden's question, thinking it referred to Section 702 of FISA, rather than 215 of the Patriot Act. In light of this confusion, Clapper says his "response was clearly erroneous—and for that I apologize." (Spencer Ackerman in the Guardian summarized this claim as, "Clapper: I gave 'erroneous' answer because I forgot about Patriot Act.")
Clapper also thanked Snowden with gritted teeth for this opportunity to set the record straight. "While my staff acknowledged the error to Senator Wyden's staff soon after the hearing, I can now openly correct it because the existence of the metadata collection program has been declassified," he wrote.
Feinstein quickly absolved Clapper. "I have received Director Clapper's letter and believe it speaks for itself. I have no further comment at this time," Feinstein said in a statement on Tuesday.
A member of Wyden's staff was less forgiving. "Sen. Wyden is deeply troubled by a number of misleading statements senior officials have made about domestic surveillance in the past several years," said Wyden's spokesman Tom Caiazza. "He will continue pushing for an open and honest debate."
Read the letter here.
[h/t ABC News/Yahoo! News]
—
>> Follow Evan McMurry (@evanmcmurry) on Twitter
Have a tip we should know? tips@mediaite.com