Jay Carney Tells Ed Henry 'I know You're Trying to Make a Partisan Issue' of Death Benefits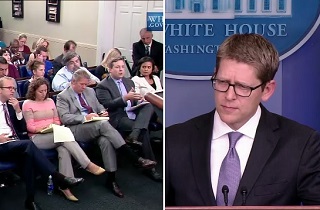 One more consequence of the government shutdown to catch the media's eye has been the failure to pay military death benefits, a consequence that was remedied late Wednesday. Earlier, at today's White House Daily briefing, White House Press Secretary Jay Carney explained that a solution was in the works, and when Fox News' Ed Henry pressed him to say how long President Obama had known of the issue, told Henry "I know you're trying to make a partisan issue out of it…"
Earlier in the briefing, Carney told CNN's Jim Acosta that "The president was very disturbed to learn of this problem and he directed the Department of Defense to work with the office of management and budget and his lawyers to develop a possible solution and he expects this to be fixed today."
By the time he got to Henry, Carney had already said, several times, that he didn't know exactly when the President learned of the issue, and had pointed out that Congress had been briefed on it prior to the shutdown. A persistent Henry tried to nail it down, anyway.
"Jay, when did the President learn specifically that the military death benefits would not be paid?" Henry asked.
"Again, Ed, for the third time ," Carney began.
"No, I didn't hear that question," Henry protested.
"Well, it was asked," Carney said. "I can tell you that when he did learn, he asked…"
"Today? Yesterday?" Henry pressed.
"Ed, I don't know specifically," Carney replied. "I can tell you that when he learned that these benefits were not explicitly dealt with in the Pay Our Military Act, he was very disturbed, and he asked for the OMB and his lawyers to take action."
Things got more contentious from there, with Henry asking "So why didn't he have that action taken before today, though?"
As Carney began to explain the process, Henry interrupted "Because there were news reports about it yesterday."
"Unless you're willing to write the check, Ed, I mean, we…" Carney responded.
"Well, there are people in the country who would write that check ," Henry said over Carney's response, "and care about this."
A stunned Carney stopped in his tracks, asking "Are you suggesting we don't, Ed?"
After some more back-and-forth with Henry, Carney explained, again, that "when the President found out, he was disturbed and he asked his lawyers and the OMB to get to work on a solution, and we expect a solution today."
"What Congress did not do, when it was informed by the Department of Defense that the DOD would be legally unable to pay these death benefits," Carney continued, "was take action, A, to keep the government open. That did not seem to disturb the Republicans who thought it was the right thing to do to shut the government down, just as it did not seem to be particularly disturbing to Republicans when they would cause all the other consequences of shutdown. They chose instead to shut the government down."
"Unfortunately, this was not addressed in the Pay Our Military Act, which is a bill that was supported broadly, with bipartisan support as well as from the President and signed into law," Carney added. "And I mean, this is not that complicated. I know you're trying to make a partisan issue out of it, but the…"
"I'm not trying to make a partisan…" Henry protested. "No, nice try."
Henry then proceeded to compare the death benefits issue with an immigration reform rally that was allowed to take place "because it was on First Amendment grounds," and asked "how can you justify letting a rally like that go forward, that could happen yesterday, it could happen next week, before something like military death benefits are taken care of?"
"Again, Ed, I'll answer it now and I look forward to the piece that you'll do on it," Carney replied. He again explained the President's efforts to fix the death benefits issue, a fix that proved both Henry and Carney correct later in the day. Someone, the Fisher House Foundation, was willing to write the check, and the Pentagon was eager to accept. The charitable foundation will be reimbursed once Republicans reopen the government.
The exchange between Henry and Carney is just the most recent example of a more combative Jay Carney who is increasingly willing to level professional criticism at his former colleagues.
Here's the clip, from The White House:
Have a tip we should know? [email protected]