Jeremy Scahill: 'Shameful' Media That Turned Jodi Arias Into 'Nancy Grace Christmas' Ignored Bradley Manning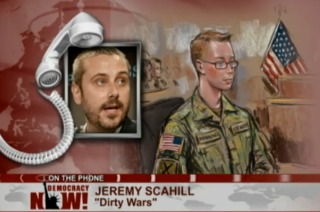 Jeremy Scahill, reporter for The Nation and author of the book "Dirty Wars," joined Democracy Now host Amy Goodman on Tuesday where he reacted to the verdict of a military court which found Pfc. Bradley Manning guilty of a number of charges relating to the release of classified national security documents. Scahill lambasted the news media for largely ignoring what he called one of the most important cases in national history. He argued that the "corporate news media" is generally supportive of U.S. military operations and has avoided covering this case in order to protect the government.

"The corporate media coverage of this trial, which is arguably one of the most important cases in modern American history, has been utterly shameful," Scahill began.
"When you look at how CNN, and MSNBC, and Fox News covered the Jodi Arias trial – where all of cable news was turned into one big Nancy Grace Christmas – and then you look at the utter lack of coverage," Scahill continued. He said that independent journalists who covered the Manning case from arrest to conviction had put the rest of the news media to shame.
RELATED: Military Judge Announces Bradley Manning Verdict…
He said that the government knows how to manipulate the media to goad them into covering stories that they want covered and burying stories they want dismissed.
"There has been more coverage of the indictment of that Real Housewives lady and her husband than there has been of Bradley Manning," Scahill observed. "This is the state of media in this country right now, and it is just devastating that we don't have a media culture that says this should have been gavel-to-gavel coverage."
Scahill charged that the secrecy surrounding the military trial of Manning and how that trail was conducted was an "attack on democratic values."
"If you believe that those within government structures have an obligation and a duty to speak out when they see criminal activity, then you have to view Bradley Manning as a whistleblower," Scahill later said. "You have to view him as someone who was motivated by love of country, and not wanting these kinds of war crimes to be committed in his name and those of other Americans."
The Nation journalist concluded by observing that Manning's conviction shows why National Security Agency leaker Edward Snowden was right to flee abroad and seek asylum in Russia.
Watch the clip below via Democracy Now:
> >Follow Noah Rothman (@NoahCRothman) on Twitter
Have a tip we should know? tips@mediaite.com