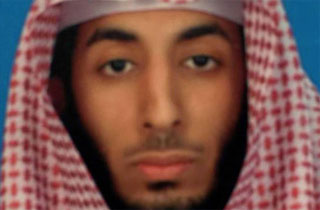 The father of Mohammed Emwazi, widely known as "Jihadi John" for his prominent appearances in ISIS's heinous execution videos, told a friend today that he had disowned his son long ago and called him "a dog, an animal, a terrorist."
In an interview with The Telegraph, Abu Meshaal, a coworker of Jassem Emwazi, recalled a conversation the two men had recently, describing how Jassem was so distraught about his son's radicalization, and the revelation that he was "Jihadi John," that he could barely come to work.
"He was very emotional and crying the whole time," Meshaal said. "He said, 'my son is a dog, he is an animal, a terrorist. He said he had talked to him a lot trying to persuade him to return to his personal life but that the son didn't listen to him. He said, 'To hell with my son'."
Emwazi's notoriety had become a "catastrophe" for the family, Jassem reportedly said, adding that he disowned his son back in 2013 after he asked for help in getting to Syria. "Mohammed called his father and said 'I'm going to Syria to fight jihad, please release me and forgive me for everything'," Meshaal said to the Telegraph. "Jassem said, "f*** you. I hope you die before you arrive in Syria."
The account backs up another anonymous friend, who told the Telegraph that Jassem had long complained about Mohammed's behavior. "He was so tired and kept on repeating that my son is not a good son," the source said.
Jassem has not left his house in days due to the shame, Meshaal added, though his superiors at the Kuwaiti supermarket have reportedly told Jassem that he is free to return to work, and that his son's actions do not reflect on him.
The identity of "Jihadi John" broke earlier this week, revealing Emwazi as a former IT worker who had become radicalized as a result, he claimed, of discrimination and harassment at the hands of British security officials.
[h/t NY Post]
— —
>> Follow Tina Nguyen (@Tina_Nguyen) on Twitter
Have a tip we should know? tips@mediaite.com