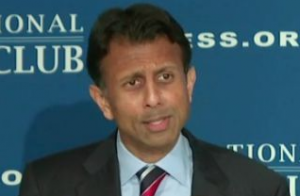 Op-eds can be a scary no man's land if not done correctly. The heavily-strewn opinions can go off like land mines without the proper vetting by PR people, communications teams, and even the writer's mom, probably. Seriously, these things need to be thoroughly checked out before they get published.
Donald Trump loves a good op-ed, of course, but only when it's written by Vladimir Putin. There has been no response from the Trump team, but this post will be updated when there is.
In his first paragraph, Jindal called President Barack Obama's campaign promises immodest, said he alienated allies, and put a hefty toll on "Americans' freedom, standard of living and economic well-being." This op-ed, then, might seem like it is about Obama, but really, it's not. Like I said, it's about Trump.
There would be no Donald Trump, dominating the political scene today if it were not for President Obama … After seven years of the cool, weak and endlessly nuanced "no drama Obama," voters are looking for a strong leader who speaks in short, declarative sentences.
He went on to say, bluntly, that "You can draw a straight line between a president who dismisses domestic terrorist attacks as incidents of workplace violence and a candidate who wants to ban Muslims from entering the country."
He finished by saying that neither man was or is right to lead the country. He would know, since he deemed the same about himself in November.
[image via screengrab]
For more from Lindsey, follow her on Twitter.
This is an opinion piece. The views expressed in this article are those of just the author.