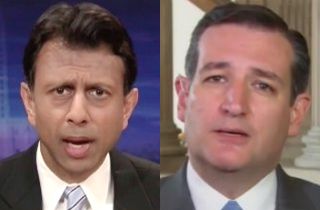 Bobby Jindal's crusade against the egomania and narcissism of Donald Trump today resulted in a swipe at Ted Cruz, whom Jindal said is sucking up to The Donald without fail.
Cruz, you may recall, has had no problem criticizing other Republicans on policy, but he has been remarkably silent when it comes to anything negative Trump-wise. Cruz has said this is because he doesn't want to play the media's game and make this personal when the country is so I think you get the picture.
Jindal, conversely, has been extremely critical of Trump in the past week, even getting pretty snarky about it, with his main objection being that Trump damages the conservative cause and cares more about himself than anything else.
And in an op-ed for CNN.com today, Jindal further expands upon this, praising his GOP rivals who have spoken out against Trump and jabbing the one that hasn't:
Jeb Bush, Rand Paul and Rick Perry admirably called Trump out for his conservative heresy, but it backfired because he doesn't give a hoot about conservatism. Meanwhile, Ted Cruz is clinging to Trump like a limpet to an oil tanker, hoping to suck up his votes when Trump eventually sinks.

Conservatives need to say what we are thinking: Donald Trump is a madman who must be stopped. Failure to speak out against Trump is an endorsement of Clinton.
Nominating Trump, Jindal warns, would be a dangerous proposition that would ultimately give Hillary Clinton the big win.
[image via screengrab]
— —
Follow Josh Feldman on Twitter: @feldmaniac
Have a tip we should know? [email protected]
Josh Feldman - Senior Editor