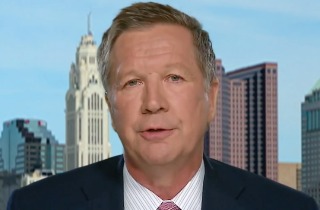 2016 GOP presidential candidate and current Ohio Gov. John Kasich told a New Hampshire crowd on Wednesday what he'd do about those lazy, scheming, no-good teachers if he became President of the United States King of America.
According to CNN, Kasich broached the rather intriguing-yet-unnecessary topic of being the next King of America at the 2015 New Hampshire Education Summit, hosted by The Seventy-Four, where several Republican contenders railed against the scourge of overpaid teachers. Unlike the rest, however, the Ohio governor channeled his inner royal.
"If I were not president, but if I were King of America," he told the crowd, "I would abolish all teacher's lounges, where they sit together and worry about 'woe is us.'"
Of course, like any good potential member of the American royal family, Kasich made sure to clarify his comments via one of his campaign's many plebeians, spokesperson Rob Nichols.
"He thinks teachers have far more support in their communities than they sometimes give themselves credit for and they shouldn't pay attention to the small number of pot-stirrers in their ranks who try to leverage problems for political gain," Nichols said in an official statement. "Anyone thinking he was making a comment on buildings or school architecture or space usage might need to look up the word 'metaphor' in a dictionary."
Whenever the nation's public schools are able to afford said dictionaries for educational use, I'm sure they'll teach the definition of "metaphor" to the next generation. That way, such a grossly unintelligent mistake won't happen again come the next celebration of King John's reign.
UPDATE–4:58 p.m. EST: The name of the conference Kasich spoke at is the 2015 New Hampshire Education Summit, whereas The Seventy-Four is the name of the group that hosted the conference. The original post has been emended accordingly.
[h/t CNN]
[Image via screengrab]
— —
>> Follow Andrew Husband (@AndrewHusband) on Twitter
Have a tip we should know? tips@mediaite.com