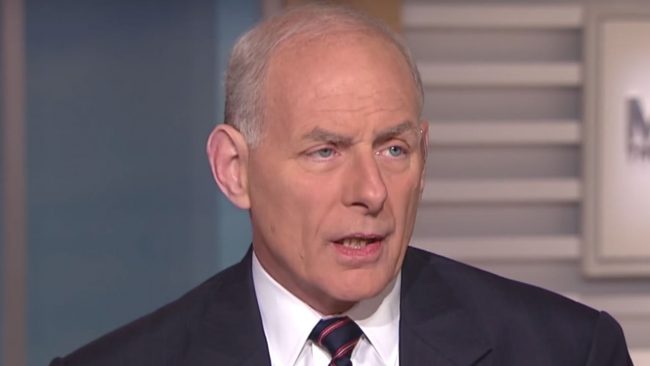 The White House's response to Bob Woodward's book is out, and in addition to the more general pushback from Press Secretary Sarah Huckabee Sanders, Chief of Staff John Kelly is now on record denying that he ever called President Donald Trump an idiot.
To recap, Woodward's book Fear contains revelations about the frustrations many in the White House have regarding President Trump's temperament:
Inside the White House, Woodward portrays an unsteady executive detached from the conventions of governing and prone to snapping at high-ranking staff members, whom he unsettled and belittled on a daily basis.
White House Chief of Staff John F. Kelly frequently lost his temper and told colleagues that he thought the president was "unhinged," Woodward writes. In one small group meeting, Kelly said of Trump: "He's an idiot. It's pointless to try to convince him of anything. He's gone off the rails. We're in Crazytown. I don't even know why any of us are here. This is the worst job I've ever had."
The White House sent out a response from Kelly calling the story "total BS" and directly saying, "The idea I ever called the president an idiot is not true."
John Kelly denies calling Trump an idiot, as quoted in Woodward book. "The idea I ever called the President an idiot is not true." pic.twitter.com/R1vRR4F2Pz

— Kaitlan Collins (@kaitlancollins) September 4, 2018
The statement cites a previous statement Kelly provided earlier this year after reporting from NBC News said he was calling the President an idiot.
[image via screengrab]
Have a tip we should know? tips@mediaite.com
Josh Feldman - Senior Editor