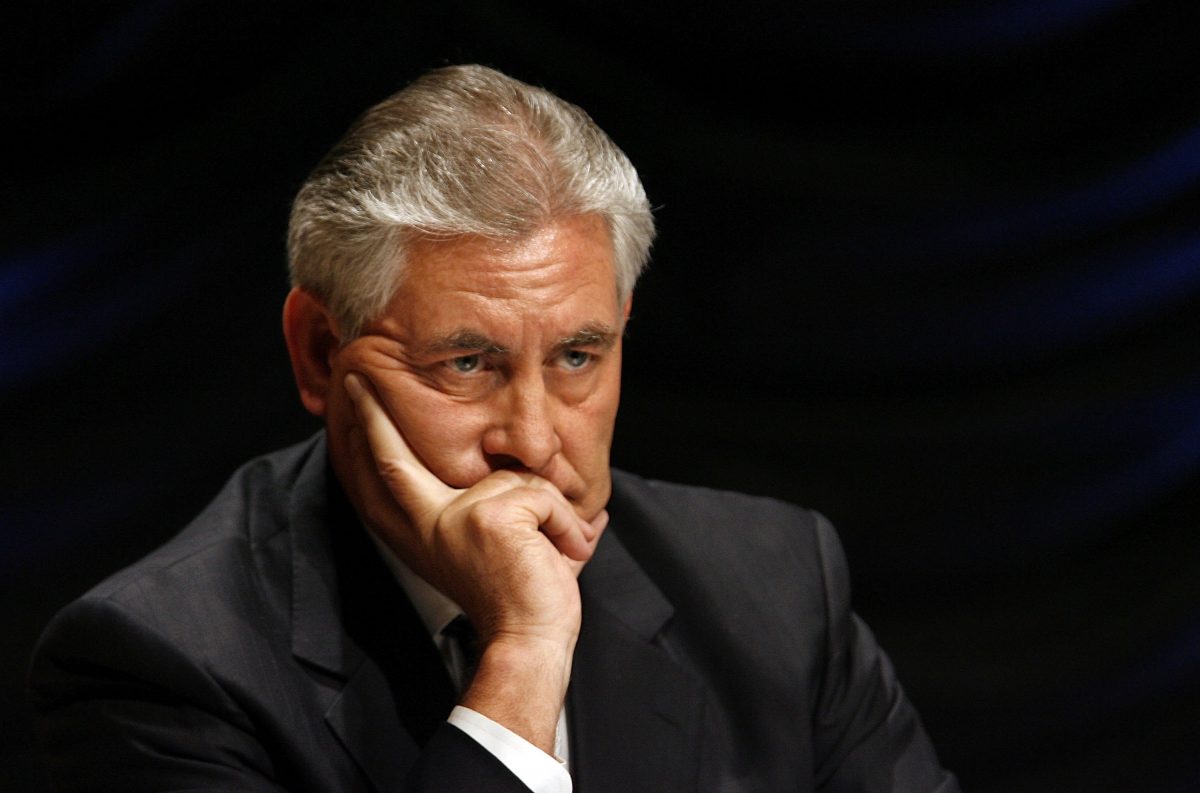 Chief of Staff John Kelly told a group of reporters during an off-the-record meeting on Friday that when he called Rex Tillerson to inform him that President Donald Trump would soon fire him, the secretary of state was on the toilet, battling a stomach bug.
Kelly's off the record conversation with reporters was ostensibly meant to be kept quiet, but both Axios and The Daily Beast — whose reporters were not invited to the gathering — have reported on it, with the help of anonymous sources.
And according to the Beast's stunning report, based on the accounts of three sources familiar with the meeting, Kelly painted a picture of his awkward call with Tillerson to inform him he would soon be out:
"Tillerson, Kelly told the room, was suffering from a stomach bug during a diplomatic swing through Africa, and was using a toilet when Kelly broke the news to him."
The off-the-record conversation was intended to calm down reporters hot on the trail of apparent turmoil in a White House that has been roiled by surprise staff shake-ups as of late.
The Beast's Lachlan Markay and Asawin Suebsaeng reported that Kelly's embarrassing comments about Tillerson stunned their sources:
Sources were stunned that, even in an off-record setting, Kelly would say this—to a room filled with White House officials and political reporters—about Tillerson, who does not officially leave the State Department until the end of the month.

Kelly is routinely touted as one of the more mature members of Trump's top brass and has often been branded as one of the "adults" in charge.

The comment was especially bizarre given Kelly's reported past cover for Tillerson. The chief of staff tried for months to keep the secretary of state in his post, The New York Times reported, and fumed at his dismissal.
While Kelly's rendezvous with reporters was declared off the record, it is hard to imagine why he would tell this story to such a large group of people. And though the reporters present were sworn to secrecy — and presumably kept their word — the Beast report makes it clear that the room was also "filled with White House officials." Considering that this White House is blabbier than a patron waiting in line for the Berghain bathrooms, Kelly must have known his embarrassing anecdote had a chance of leaking (for lack of a better word.)
In any case, if you thought Tillerson suffered enough public humiliation this week when the president fired him in a tweet, always remember: in this White House it can always get worse.
[image via Chip Somodevilla / Getty Images]
—
Follow Aidan McLaughlin (@aidnmclaughlin) on Twitter
Have a tip we should know? tips@mediaite.com
Aidan McLaughlin - Editor in Chief