'John Kerry is Simply Not Telling the Truth': Conservatives Rail Against Kerry's Speech on Israel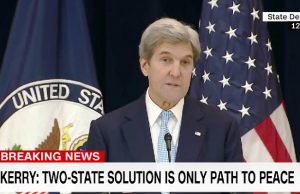 Secretary of State John Kerry delivered an impassioned speech today at the State Department regarding the recent decision by the United States to abstain in the United Nations Security Council resolution vote on Israeli settlements.
Kerry explained during the speech that the resolution is about preserving a two-state solution between the Israelis and Palestinians, stating that the solution is now in "serious jeopardy." He further noted that no American administration had done more for Israel and its security than Barack Obama's. Kerry also added that the US did coordinate with the Security Council on the resolution, confirming much of Israeli accusations against the administration.
As one would expect, especially since this is such a hot-button issue that divides typically divides conservatives and liberals, a number of conservative pundits, writers and media figures took to Twitter to express their disdain for Kerry's speech.
Right away, Morning Joe's Joe Scarborough accused Kerry of lying while bringing up the Iran Deal (another sore spot for many conservatives).
John Kerry is simply not telling the truth. This administration's obsession with an Iran deal has weakened Israel and Gulf allies.

— Joe Scarborough (@JoeNBC) December 28, 2016
Other right-leaning voices joined in on the criticism, many taking personal potshots at the SoS.
This John Kerry speech is chock full of false equivalence and legions of strawmen

— Rick Wilson (@TheRickWilson) December 28, 2016
Hi. I'm John Kerry. I stood by as 500,000 Syrians were killed. Now let me tell Israel what to do, because I am a moral midget.

— John Podhoretz (@jpodhoretz) December 28, 2016
If you are Jewish and supporting Barack Obama and John Kerry, well, you would have made a fine helper at Auschwitz.

— Kurt Schlichter (@KurtSchlichter) December 28, 2016
John Kerry is bringing great shame upon our nation at this hour.

— toddstarnes (@toddstarnes) December 28, 2016
Is @JohnKerry about to announce his run for leadership of Palestine?

— Ben Ferguson (@benfergusonshow) December 28, 2016
Kerry is basically making the case that Israel is a burden. It's not true. This is disgusting.

— Jamie Weinstein (@Jamie_Weinstein) December 28, 2016
John Kerry entered public life 45 years ago slandering his fellow American servicemen. He leaves it slandering America's finest ally.

— Bill Kristol (@BillKristol) December 28, 2016
Democrats should condemn the actions of Samantha Power, Susan Rice, John Kerry & Barack Obama. #Israel

— Richard Grenell (@RichardGrenell) December 28, 2016
"POTUS has been deeply committed to Israel & it's security."
— John Kerry pic.twitter.com/nBDvjmT9WS

— Benny (@bennyjohnson) December 28, 2016
[image via screengrab]
–
Follow Justin Baragona on Twitter: @justinbaragona
Have a tip we should know? tips@mediaite.com