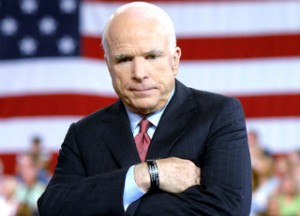 Sen. John McCain spoke about President Obama's unannounced trip to Afghanistan on Tuesday, saying "it's a good thing." The U.S.-Afghanistan Strategic Partnership Agreement is important, he said — adding that he "regretted" that the president did not give a major address on Afghanistan since June 2011.
RELATED: President Obama Makes Surprise Visit To Afghanistan
Asked about the trip, which coincides with the one-year anniversary of the Osama bin Laden raid, McCain told CNN, "Well I think it's a good thing." He continued:
"I think it's always good when the president goes to where our young men and women are in harm's way and I think that many of us who have been involved in Afghanistan are very involved in the strategic partnership agreement, which I'm sure he will be talking about, and we think that the agreement is good and we obviously would like to know the details."
Over the weekend, McCain had criticized Obama's campaign ad that highlighted the bin Laden raid (and questioned whether Mitt Romney would have made the same call). The senator called it a "cheap political attack ad." This trip, however, McCain said, is not the president politicizing the issue.
"No, I don't see it as that," McCain said. "And I wish the president would explain more often to the American people why Afghanistan is important, that Afghanistan not return to a base for attacks on America."
Via CNN:
McCain did say it was "regrettable" Obama hasn't given a major address on Afghanistan since June 2011, when he announced plans for troop withdrawal from the country.

"The American people need to know why sacrifices are being made, and they are being made, and in my view the president really has been remiss in not talking to the American people and our young people are in harm's way," McCain said.
In a statement on his website, McCain said he is "pleased" by the president's trip — noting that it is "significant opportunity for him to hear directly from our military commanders and troops on the ground about the significant progress we are making in this fight."
(H/T CNN; McCain Press Release)
Have a tip we should know? tips@mediaite.com