Evangelical Leader Bryan Fischer Declares 'Huge Win' After Romney's Gay Spokesman Resigns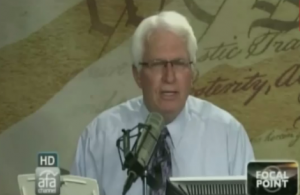 Bryan Fischer, the director of issue analysis at the American Family Association, reacted to news the that openly gay Mitt Romney spokesman Richard Grenell has resigned, following backlash (citing personal reasons). Fischer called the development a "huge win" — adding that it likely ensures Romney won't hire someone who is openly gay for a prominent position any time soon.
RELATED: Romney Spokesman Richard Grenell Resigns Following Backlash For Being Openly Gay
"Ladies and gentlemen, this is a huge win," Fischer said during his daily broadcast on Tuesday. Romney has been "forced to say, I overstepped by bounds here,'" he added. Of course, Romney won't admit that, Fischer said, but "that's exactly what happened."
Fischer explained what he thinks is the importance of the incident: "I will flat out guarantee you [Romney] is not going to make this mistake again. There is no way in the world that Mitt Romney is going to put a homosexual activist in any position of importance in his campaign."
Fischer had previously criticized Romney's hire, saying it sent a message to the "pro-family community" to "drop dead." The Romney campaign said they tried to persuade Grenell not to leave — to no avail.
Speaking to Business Insider, Fischer remarked that he had no contact with the Romney campaign, and that he believes this was a politically "expedient" move from the campaign:
"I think it improves his chances that evangelicals will support him," Fischer said. "Gov. Romney strikes me as a politician that will do the right thing if it's politically expedient for him to do it. That's sort of the challenge before the pro-family community — make it politically expedient for Gov. Romney to do as many right things as possible."
Take a look at his remarks:

(H/T RightWingWatch)
Have a tip we should know? tips@mediaite.com