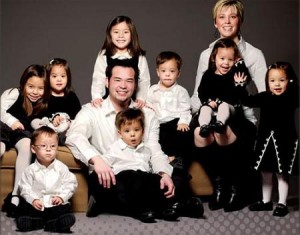 TLC announced Tuesday that their gold mine reality show "Jon & Kate Plus 8" is dropping douche-bag dad Jon to become a terser "Kate Plus Eight." No confirmation of whether Jon voluntarily made his exit, though it seems highly likely by the looks of his frequent Las Vegas romps.
As if these two haven't gotten enough media attention, everyone from People to Huffington Post is talking about this "stunning announcement," but frankly we find the news more unfortunate than stunning. More sad than the extraordinarily fast decline of their fifth season ratings (only 1.7 million viewers watched last Monday, a startling drop from the 9.8 million people that tuned in to the season premiere) is the fact that the show just can't survive without the drama that an unhappily dissolved marriage brings to the television set.
Because the truth is, the family's most successful TV moment to date is the notorious Separation Episode, when J and K announced that they hated each other were breaking up. More than 10 million people watched this joyous painful moment on a Monday night, making it the most watched show in TLC history. And it's only gone downhill from there…
We hate to admit that anyone needs this inept father turned recently overweight lady killer, but it seems like he left Kate and took the ratings with him. We just hope she's saved most of the rumored $75K she takes home per episode, because who knows how much eight simultaneous college educations will cost by the time those cuties graduate high school.
Have a tip we should know? tips@mediaite.com