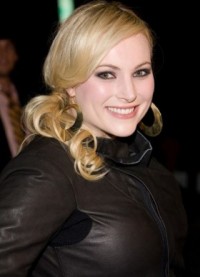 Meghan McCain first crossed my radar during the 2008 Presidential campaign, when the media tried to pin a gaffe on her.  Like most things that have been thrown at her since then, it didn't stick.
After blogging it out during her father's campaign, Meg became a contributor to The Daily Beast, where her dating confessions, political observations, and fearless, fun-loving penchant for saying whatever she wants have made her a sensation.  Meg's penchant for "keeping it real" has led to ruffled feathers, but has also made her a superstar on Twitter.

She recently wrapped up a stint as guest-host on "The View," is currently working on her second book, and continues to write for The Daily Beast.
On a personal note, I'd like to add that I greatly admire Meghan for the support she has given to gay rights issues, particularly her support for The Trevor Project, and for the way she has stood up for women everywhere.  She's not just good at being famous, but at being famous for good.
1. How do you get your first news of the day?
I go online. In the morning I get up, get coffee and get on my computer to The Daily Beast first, then Politico, Drudge Report, Fox.com, CNN.com, BBC.co.uk, Huffington Post, The Wall Street Journal.com, The National Journal's "Hotline On Call", Perezhilton.com, USweekly.com, People.com, and Twitter, people always send me news clips on Twitter, which I love. I like to mix it up and I want to know what is going on in news and politics but also pop culture. I also religiously read a good friend of mine – Chris Potter Stewart's blog called MondayMorningClacker.com, it's based out of New Hampshire and I am still so curious about New Hampshire politics and politicians visiting New Hampshire because it will be a barometer for the midterm elections. I can't remember the last time I bought an actual, tangible, paper, newspaper – I get it all online.
2. Either, Or (you gotta pick one!):
"Baby Got Back" or "Rumpshaker?"
-Baby Got Back of course! Sir-Mix-Alot is a genius!
"F-bomb" or "S-word?"
-Ohh F-Bomb, nothing is more cathartic than dropping one.
Whiskey or tequila?
-Tequila, my new favorite kind is "Casa Noble" with a traditional Sangrita chaser like they do in Mexico. Amazing! My friends and I love to go on Saturdays to this Mexican restaurant called "Cabrito" in the West Village for tacos and tequila. It's my favorite Mexican Restaurant in New York and that's saying something because I am from Arizona.
Bad boys or funny guys?
-Ahhh, funny guys, bad boys break your heart and if you can make me laugh its the quickest way to get me to go on a date with you.
Alien or Aliens?
-Alien, I'm a purist!
3. What's the biggest story the media has missed this year? (Or last week):
Afghanistan. I don't understand why the media seems to have lost interest in what is going on over there. It's sad when I have to talk to my brothers to hear some real insight about what's going on in Afghanistan and an unbiased perspective from people in the military. It's why I started reading BBC online because they cover it a lot more than in our country.
4. Obligatory Twitter Question: Describe yourself in 140 characters or less (hash tag optional!).
Boom, Boom, Pow! :-)
That's what I would put ON TWITTER as a description of myself!
5. Are you nervous or excited about the future of Journalism? Why?
I am excited about mediums like twitter where citizen journalism is really taking a precedence over mainstream media. I am pretty much completely disillusioned with journalists after my time on the campaign and think its pretty sad if you give me a name, I can probably tell you which team the person is on. I think all of it's bad. I tweeted a while ago that Walter Cronkite, Edward R. Murrow and Peter Jennings are probably rolling around in their graves at the state of today's media.
See Meghan McCain on the Colbert Report here, see her not-at-all-shabby rank on the Power Grid here, her Daily Beast archive here and follow her on Twitter here.
Have a tip we should know? tips@mediaite.com