Journalists Give Credit to Kevin Hassett For Correcting Trump Falsehood: 'WH Never Admits This'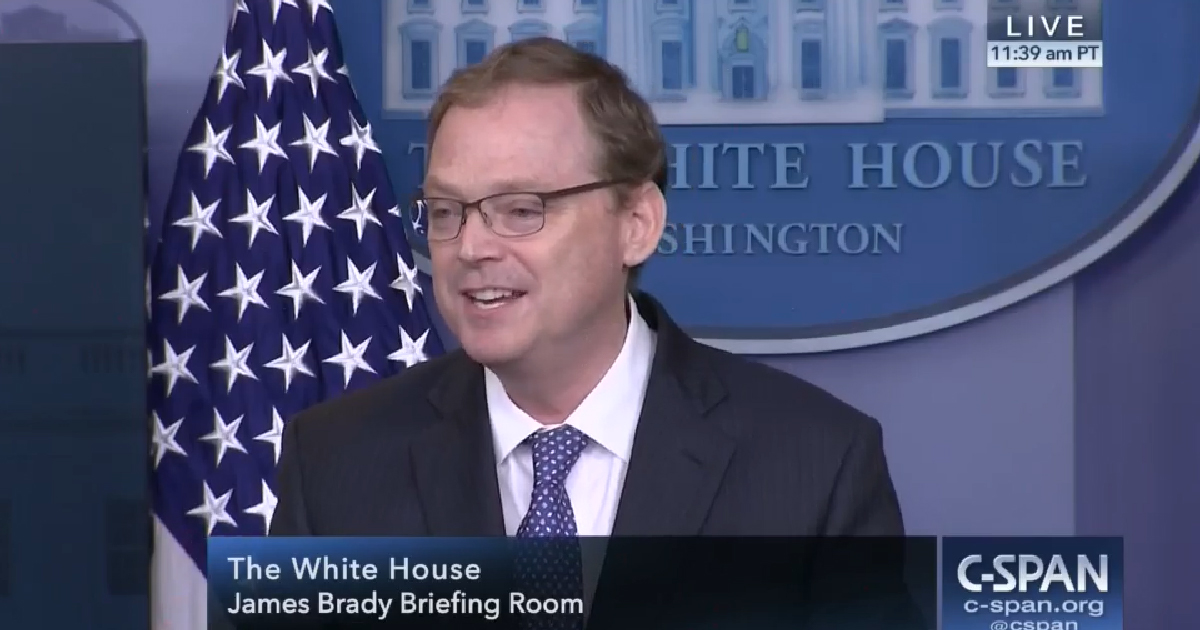 The name Kevin Hassett was trending on Twitter this afternoon after the White House economic adviser held a wild press briefing in-which he claimed Donald Trump is responsible for positive economic numbers, admitted the president pushed a false figure on Twitter, and did so while smiling as hard as humanly possible.
Hassett addressed a Trump tweet, in which the president falsely claimed that America's GDP outgrew the unemployment rate for the first time in a century, by correcting his boss.
Hassett kicked off the presser by displaying several charts that he claimed showed positive numbers for the economy under Trump. He also brushed off assertions that former President Barack Obama is also responsible for the current economic turn, but denied that he was doing this in response to Obama's speech on the topic, which Trump attacked on Twitter.
"There's not in any way a timing that's related to President Obama's Friday remarks," Hassett said.
Many pundits and journalists on Twitter (not to mention on air) pointed out the significance of Hassett admitting the president was wrong, while others addressed problems with him giving credit to Trump for the state of the economy:
Trump's own top economist — Kevin Hassett — just said this is flat out wrong. It's the best in 10 years…. NOT 100 years.

"What is true is it's the highest in 10 years. At some point someone conveyed it to him adding a zero to that and he shouldn't have done that." – Hassett https://t.co/QRcdqarve5

— Heather Long (@byHeatherLong) September 10, 2018
Worth noting that an aide to the president is acknowledging Trump was spreading false information earlier this morning (though Hassett blamed WH aides). Most of the time the WH never admits this.

— Jim Acosta (@Acosta) September 10, 2018
Credit to Kevin Hassett at the White House who just owned up to this Trump tweet mistake. (Not 100 years — but 10.) https://t.co/moizzpjVZQ

— Brooke Baldwin (@BrookeBCNN) September 10, 2018
Kevin Hassett just explained that Trump's tweet this morning was an error because someone told him that GDP growth hadn't exceeded the unemployment rate in 10 years. And then Trump accidentally added a zero in the tweet.

— Joe Weisenthal (@TheStalwart) September 10, 2018
One thing that Hassett does not discuss is WAGES. They are flat and declining, even though the Trump administration promised wages would skyrocket

— Judd Legum (@JuddLegum) September 10, 2018
Kevin Hassett claims to see a Trump inflection point in this data and I guess he has better eyes than I do. pic.twitter.com/VyMykMALt2

— Matthew Yglesias (@mattyglesias) September 10, 2018
LOL! After giving Trump credit for each and every bit of good economic news that's happened over the last two years, Hassett declines to give Obama credit for anything, explaining that he "prefers to give blame or credit to policies rather than individuals." #BeyondParody pic.twitter.com/FyXq3h8zUA

— Aaron Rupar (@atrupar) September 10, 2018
Of course, Twitter also commented on how Hassett looked during the presser:
Kevin Hassett, who is always the most excited and happy WH official at the podium, has been dispatched to prove that Trump in fact deserves credit for the economy and not Obama.

— Sarah Westwood (@sarahcwestwood) September 10, 2018
Kevin Hassett is America's happiest economic adviser

— Joe Perticone (@JoePerticone) September 10, 2018
I can only aspire to someday be as happy as Kevin Hassett appears at all times.

— Alyssa Farah (@Alyssafarah) September 10, 2018
I can confirm that Kevin Hassett is the smiliest economist in America.

— Kate Bennett (@KateBennett_DC) September 10, 2018
WH econ advisor Kevin Hassett (the most cheerful person in DC) is gonna make reporters write about durable goods orders whether they want to or not! Have a great panel to analyze the briefing as soon as it ends! @dailybriefing @FoxNews

— Dana Perino (@DanaPerino) September 10, 2018
Watch above, via CSPAN.
[image via screengrab]
Follow the author on Twitter (@calebecarma).
Have a tip we should know? tips@mediaite.com