Judd Apatow Rips Trump Candidacy: He's 'Like the Psycho Girl on the Bachelor'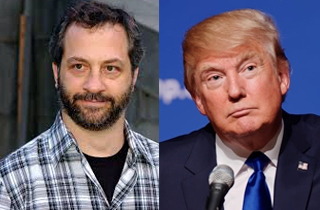 Director Judd Apatow slammed Donald Trump Saturday during a speech at a People of the American Way event, asking the audience if the presidential candidate reminded them of crazy contestants on The Bachelor.
"Doesn't Trump seem like the psycho girl on The Bachelor, who you don't want to get kicked off too early because you want to see what she might do?" Apatow asked the crowd while accepting a Spirit of Liberty Award from the PFAW. "And then later in the season, you're like, 'Enough of her, let's get to the real contestants.'"
"I feel like we're at that moment right now," Apatow added.
"I never found him funny. I think it's all very scary," the comedian told Daily Beast entertainment editor Matt Wilstein. "I think that people have been trained to think that being amused is what's most important in our country, and a lot of the problems that need to be solved are not that interesting to talk about if you did it thoughtfully."
Apatow also knocked disgraced comedian Bill Cosby, who has been accused of sexual assault by at least 32 women. On stage, the Girls executive producer said, "we have to stand up for women, because it's not about Bill Cosby, it's about nothing except when women stand up and say they have been attacked, you have to listen to them and believe them."
[Images via Wikimedia Commons]
—
>> Follow Elizabeth Preza on Twitter (@lizacisms)
Have a tip we should know? [email protected]