Black Columbia Professor: 'Actually, Scalia Had a Point' on Affirmative Action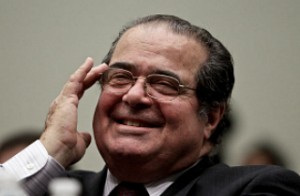 Columbia University professor John McWhorter defended Supreme Court Justice Antonin Scalia in an op-ed for CNN Sunday, saying that he was right to ask during oral arguments for the case Fisher v. Texas whether black students would do better in slower-paced schools.
"I don't usually agree with Justice Scalia's perspectives, but we are doing him wrong on this one," McWhorter writes in the op-ed, titled, "Actually, Scalia had a point."
The linguistics professor admits that Scalia was less-than-graceful in the way he phrased the question. "However, Scalia's comment stemmed not from random intuition but from research showing that a substantial number of black students would do better — and be happier — at schools less selective than the ones they are often admitted to via racial preferences." [Editor's note: You heard here first, folks]
McWhorter points to studies showing that the "mismatch" of black students lowers the number of black scientists, leads to more black law graduates failing the bar exam, and leads to worse outcomes for brown and black students in general. "Our national conversation on racial preferences is underinformed and mean when founded on an assumption that anyone who seriously questions racial preferences is naive at best and a pig at worst," he writes.
McWhorter is notoriously hard to place ideologically. In just this year, he denounced the use of the term "thug" as just code for the n-word, but also attacked the Black Lives Matter protest movement as obsessed with the police uninterested in the truth.
[Image via screengrab]
——
>>Follow Alex Griswold (@HashtagGriswold) on Twitter
Have a tip we should know? tips@mediaite.com