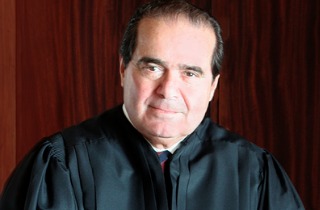 Supreme Court Justice Antonin Scalia predicted in his DOMA dissent that if a federal ban on gay marriage is considered harmful to the rights of gay individuals, then it's only a matter of time before the same is said of state bans. And people all over the country agreed with him, including a Wisconsin judge who cited Scalia favorably in a ruling striking down the state's ban on same-sex marriage.
Scalia meant his dissent as a warning about precedent about gay marriage laws being struck down, but U.S. District Judge Barbara Crabb cited him favorably. She dismisses his argument about how gay marriage opponents are made out to be "enemies of the human race" with these rulings, but does repeatedly use what Scalia wrote in opposition to a pro-gay marriage ruling to bolster her own pro-gay marriage ruling.
For example:
On its face, Windsor does not apply to state law bans on marriage between same-sex couples… However, as noted by Justice Scalia in his dissent, it is difficult to cabin the Court's reasoning to DOMA only… If anything, the Court's concerns about the "second-class status" imposed by DOMA on same-sex couples would be more pronounced by a total denial of the right to marry than by the "second-tier" marriages at issue in Windsor that provided state but not federal benefits.
And Crabb is not the first judge to take this kind of jab at Scalia, a Utah judge invoked Scalia in the same manner when deciding to overturn Utah's ban on gay marriage.
[h/t TPM]
[image via U.S. Supreme Court]
— —
Follow Josh Feldman on Twitter: @feldmaniac
Have a tip we should know? tips@mediaite.com
Josh Feldman - Senior Editor